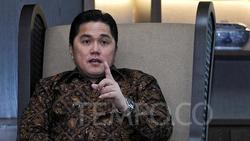 "We see that there is a large market potential, not only in Indonesia and the UAE, but the UAE is a distribution center for Africa and the Middle East," says Indonesia's Minister of State-Owned Enterprises (BUMN) Erick Thohir
CNBC Indonesia | 23 August 2020
(Below is a Google translation from original to English)
UAE Agro Companies Will Invest in Subang
by Monica Wareza, CNBC Indonesia
Jakarta, CNBC Indonesia - A producer and distributor of fresh fruit and vegetables from Abu Dhabi, United Arab Emirates, Elite Agro will invest in Indonesia, to be precise in Subang, West Java. This cooperation plan was conveyed during a meeting between Foreign Minister Retno Marsudi and Minister of State-Owned Enterprises (BUMN) Erick Thohir during a visit to the country.
Retno said that this is a continuation of the bilateral cooperation between Indonesia and the United Arab Emirates which continues to grow. Currently ongoing cooperation is in the energy sector and will be continued with cooperation in the health and agriculture sectors.
"In the agricultural sector, Elite Agro has an agribusiness investment plan in Subang, West Java and is expected to be realized as soon as possible," said Retno in a virtual press conference, Saturday (22/8/2020).
Erick Thohir said that this is part of increasing food security in the country so that it can improve the quality of domestic food products so that they have a selling value abroad.
According to him, with this cooperation it is hoped that domestic food products will then be able to enter the African and Middle Eastern markets.
"We see that there is a large market potential, not only in Indonesia and the UAE, but the UAE is a distribution center for Africa and the Middle East. We want to make sure the standardization is good. This is what we lack in producing food products, we are still inferior to neighboring countries. So, through cooperation with the UAE, we want to increase the quality of food production while at the same time securing food needs in Indonesia," Erick explained at the same opportunity.
Previously, Erick also explained that the government would also attract investment in the energy sector, especially renewable energy.
"We know that oil imports are still high. We don't want to just be a market, but we also want to get additional technology from a big country like the UAE, especially in the energy sector. We are not only cooperating in oil, but we are also working together to explore renewable energy sources. "Therefore, one of the meeting points we will conduct is how PLN can transform with Masdar's partners to build solar energy, which is currently in Cirata and we will explore it again in several other areas," said Erick.