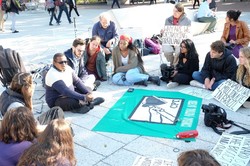 Brazilian land rights defender Altamiran Ribeiro and Harvard University students discuss the fight for environmental justice, in the face of land grabs by institutions like Harvard. (Photo: Jenna Farineau/ActionAid)
Medium | 8 July 2020
Pension giant executive's sky-high pay package angers clients and Brazilian land grab victims

By Marc Edelman, Doug Hertzler, and Maria Luisa Mendonça
As the Movement for Black Lives demands alternatives to racist systems in our country, communities of color around the world press on in their struggles for land and self-determination.

Last fall, Afro-Brazilian activist Altamiran Ribeiro came to Howard University to denounce how large soybean farms, funded by U.S. firm TIAA, are seizing peasants' lands, devastating forests and poisoning water. He explained how villagers face death threats and intimidation by private security guards and land grabbers.
TIAA — formerly Teachers Insurance and Annuity Association of America — manages retirement savings for most U.S. college faculty and many non-profit employees and claims to be a socially responsible investor.

Its CEO, Roger Ferguson, lives in Washington, and Ribeiro had high hopes of talking with him. But the company refused, offering instead a spokesperson who in previous meetings with non-profits and shareholders had denied the issues Ribeiro wanted to raise.
This was not the first time TIAA declined to meet with people affected by its activities.

In 2017 they refused to see a representative of black and Garifuna communities in Honduras, where palm oil plantations were grabbing lands and wrecking the environment. They also spurned an invitation to a panel on their land acquisitions at the 2017 American Anthropological Association convention and later meetings with lower level officials failed to yield progress.

Before Ribeiro's Washington trip, our coalition of environmental and human rights organizations requested meetings with TIAA Trustees. We never received a response.

TIAA is asking clients to vote by July 10 on a $21 million compensation package for CEO Ferguson and to confirm a Board of Trustees that has been unresponsive regarding the use of retirement money to grab farmland, destroy forests and violate human rights.

TIAA says it is the largest manager of global farmland. Together with subsidiaries in Brazil and elsewhere, it has acquired over 2 million acres and is leading corporate land speculation in the United States and globally. Many of its U.S. acquisitions are in the Mississippi Delta, where agribusiness dispossessed black farmers and outside investors are making it harder for younger farmers and farmers of color to buy land.

In Illinois, home of TIAA's farmland operations, the company rents to corn and soybean operations that produce without the cover crops needed to prevent soil erosion, polluting rivers and threatening health. Around TIAA's land, small towns are dying and farmhouses are falling down.

While communities near TIAA's farms are hollowing out, TIAA proclaims support for social and environmental sustainability. Far from contributing to social responsibility, its Farmland Principles undercut more comprehensive land tenure guidelines approved in the UN Committee on World Food Security. Its "zero deforestation" policy has failed to stop land grabbing, deforestation and fires on its Brazilian holdings.

Contrary to TIAA's claims, its agriculture acquisitions do not contribute to the UN Sustainable Development Goals. They promote land concentration to produce commodities for export, such as soy and sugarcane, which undermine local food systems, soil fertility and biodiversity. TIAA's farmland acquisitions do not foster the diversified, resilient agriculture that would truly address hunger and climate change.
Education and non-profit employees are speaking out against TIAA's excessive executive compensation and demanding that company trustees respond to their concerns.

Some TIAA participants are expressing their views about executive pay through the company's advisory vote portal. TIAA participants and others are also signing the petition to get financiers out of farmland.

Ferguson may still get his $21 million package on July 10, but communities that are losing land and livelihoods in Brazil are determined to persevere in the fight for agrarian and environmental justice.

—

About the Authors

Marc Edelman is a TIAA participant and Professor of Anthropology at Hunter College and the CUNY Graduate Center. His recent books include Global Land Grabs: History, Theory and Method and Global Land Grabbing and Political Reactions 'From Below'.

Doug Hertzler is a TIAA participant, holds a PhD in Anthropology from the University of Iowa, and former Associate Professor at Eastern Mennonite University. He is a Senior Policy Analyst for ActionAid USA.

Maria Luisa Mendonça holds a PhD in Geography from the University of São Paulo and is a research scholar in the the CUNY Graduate Center's Center for Place, Culture and Politics. Her recent book is Economia Política do Agronegócio (Political Economy of Agribusiness). She is co-director of the Brazilian Network for Social Justice and Human Rights.
3
Land Grabbing
Land Rights
Pensions
Self Determination
Solidarity