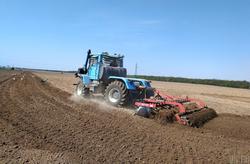 Photo from UNIAN
UNIAN | 4 June 2020
Ukraine to lift restrictions on farmland purchases by foreigners under condition – Zelensky

According to the president, the restrictions will be lifted only when Ukrainian farmers get access to lending at low rates.

Ukrainian President Volodymyr Zelensky has said Ukraine will lift restrictions on farmland purchases by foreigners only after it provides domestic farmers with the opportunity to take loans at low rates for this purpose.

"It is right that everyone has the opportunity to buy agricultural land. This will definitely happen after certain decisions. We could not open the purchase of farmland to everyone, including foreign companies, since they have completely different credit terms," he said at a meeting with business representatives in Khmelnytsky region on June 3, 2020.

"Our strategy is very simple – we will first make comprehensible and proper lending conditions so that our people, farmers could take loans at 2%, and then we may open the farmland market to everyone," Zelensky said.

According to the president, the authorities will protect long-term leases of farmland by foreign companies that have long been on the Ukrainian market.

As UNIAN reported earlier, on April 28, 2020, Zelensky signed a bill into law to amend certain legislative acts of Ukraine on the conditions of circulation of farmland No. 552-IX, which was approved by the Verkhovna Rada on March 31, 2020.

The law provides for gradual land reform: from July 1, 2021, only individual citizens of Ukraine will be able to buy up to 100 hectare of agricultural land.

During the second stage, which starts on January 1, 2024, the limit will grow to 10,000 ha, and legal entities will also be able to buy farmland.

Arable land shall not be sold to foreigners, legal entities with foreign shareholders and legal entities whose beneficiaries cannot be identified or whose beneficiaries are registered in offshore zones, as well as to persons under special economic and other sanctions.