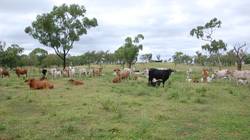 Global AgInvesting | 14 May 2020
Hewitt Cattle Australia lists Charters Tower aggregation for sale amid focus shift to organic
By Lynda Kiernan
Hewitt Cattle Australia, a joint partner of Canadian pension fund – Public Sector Pension Investment Board (PSP Investments), has listed its Mt. Cooper aggregation in Northern Queensland for sale.
After many years of operating in the region, Hewitt's decision to sell was made in deference to its expanded focus on regions targeting organic production, according to Mick Hewitt, CEO, Hewitt Cattle Australia.
Located 150 kilometers south of Townsville, and 80 kilometers southeast of Charters Towers, the parcel includes the Mt. Cooper and Harvest Home stations covering more than 87,000 hectares (214,981 acres), and has a carrying capacity estimated at 8,500 adult equivalents.
The assets are being offered in one line, or as separate assets, along with approximately 7,000 head of cattle, creating an opportunity for interested investors looking to gain a fully-operational beef enterprise to buy into a turn-key deal, according to CBRE, where Danny Thimas and Simon Cudmore have been appointed to manage the sale along with Peter Macpherson and Troy Trevor of Queensland Rural.
"As a company we are proud of the extensive investment we have made in this region over many years and, in particular, the high standard of infrastructure and pasture development implemented across both Mt Cooper and Harvest Home during our tenure," said Mick Hewitt.
Hewitt has already begun extending its reach into organic beef. In November 2017 Global AgInvesting shared that the company had acquired a stake in Arcadian Organic Natural Beef Co., one of the largest organic meat companies in Australia, through a deal valued at approximately $50 million. Under the terms of the deal, Hewitt also acquired two cattle stations – the 28,340-hectare Oakwood Station in western Queensland, and the 1,740-hectare Warilba Station in western New South Wales.
At the time, Hewitt stated that Cleaver – Arcadian's top brand, and the most successful organic meat brand in the country, which sells through domestic supermarkets as well as being exported to nine foreign markets – would be a focus for development.
"We have partnered with Arcadian because we share a commitment to this industry and are prepared to invest in it," Mick Hewitt told AFR in 2017. "We strongly believe that rapid growth in the organic segment will continue, and see evidence of this in a number of ways including the ongoing strength of our Cleaver's brand."
With this pivot in focus to the organic beef market, the Mt. Cooper aggregation is no longer viewed by Hewitt as "strategically relevant". However, Ben Hewitt, COO of Hewitt Cattle Australia, noted, "As the former home of myself and my family, the sale of the Mt Cooper Aggregation reflects a progressive change in our company's strategic direction."
"We are proud to present these well-developed northern pastoral assets to the market following many years of dedicated development initiatives focused on improving productivity and ease of management across the aggregation."
"Knowing the property as well as I do, I have every confidence the successful purchasers will reap the benefits of this investment, particularly given the recent rainfall, which has set the property up perfectly moving forward."