Chain Reaction Research | 19 May 2020
The Chain: BrasilAgro's string of new farmland acquisitions signals ongoing land speculation
BrasilAgro, a publicly-traded farmland investor, has expanded its farmland holdings by 33,500 hectares (ha) in recent months. Native vegetation covers 11,915 ha of this area, and it may be at imminent risk of being cleared if BrasilAgro moves ahead with its development plans. Its two recent purchases indicate that BrasilAgro continues to aggressively implement its business model that focuses on the acquisition and transformation of Cerrado savanna into farmland.
Merger with Agrifirma Brasil in 1Q20

In 1Q20, BrasilAgro finalized its merger with farmland investor Agrifirma Brasil Agropecuária. As a result, Agrifirma's land portfolio, consisting of two owned farms in addition to operations of leased land, is consolidated in BrasilAgro's asset base. Agrifirma's farmland holdings were located in the state of Bahia and consisted of Fazenda Arrojadinho (20,148 ha) and Fazenda Rio do Meio (12,287 ha). The company's website also reports holding part of Fazenda Bananal (23,952 ha), but this area does not appear to have been part of the merger. These assets, valued at USD 205 million by Deloitte, can be used for grain production or cattle raising.
These farms are partially developed but also contain significant strands of remaining native vegetation. In Fazenda Arrojadinho, 6,037 ha of Cerrado vegetation remains, including significant strands outside of areas designated as environmental reserves. At Fazenda Rio do Meio, 3,427 ha of vegetation remains, mostly within designated environmental reserves.
Figure 1: Fazenda Arrojadinho in the municipality of Jaborandi, Bahia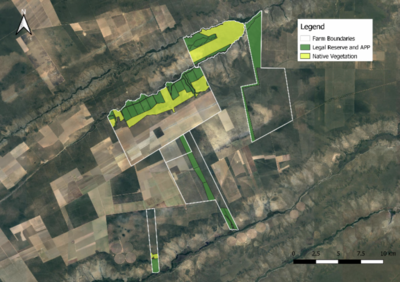 Figure 2: Fazenda Rio do Maio in the municipality of Correntina, Bahia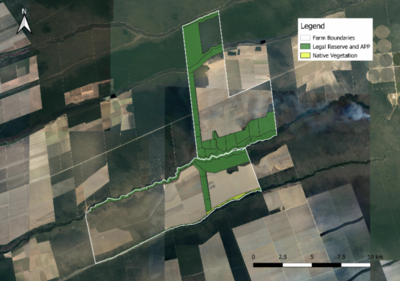 According to a filing with the U.S. Securities and Exchange Commission (SEC), the merger will "allow the optimization and growth of BrasilAgro's businesses, through the use of synergies with Agrifirma Agropecuária and its subsidiaries and the exploration of areas perceived as strategic." BrasilAgro expects to benefit from Agrifirma's assets being close to Chaparral and Jatobá farms and from "land value generation potential considering that part of the area is not developed."
BrasilAgro's counterparty Agrifirma Brasil was founded in 2008 as a Brazilian farmland investment company. It was backed by big-name investors such as Lord Rothschild and Jim Slater, along with hedge fund manager Hugh Sloane. Farmland investment in Brazil has seen major growth since the 2008 market crash and has been a driver of deforestation in the Cerrado.
Purchase of 4,500 ha of Cerrado vegetation in Piauí

In May 2020, BrasilAgro
announced
an additional farmland purchase of 4,500 ha in the state of Piauí. In this deal, BrasilAgro purchased the Fazenda Serra Grande, a property that holds 2,451 ha of native vegetation. It is located on a highland plateau and is adjacent to an existing 5,700 ha farm that is operated by BrasilAgro under an agricultural partnership. In its announcement of the purchase, BrasilAgro indicates that 2,900 ha make up arable land and can be developed for grains cultivation. CRR considers this area to be at imminent risk of being cleared.
Figure 3: Purchased area of Fazenda Serra Grande in the municipality of Baixa Grande do Ribeiro, Piauí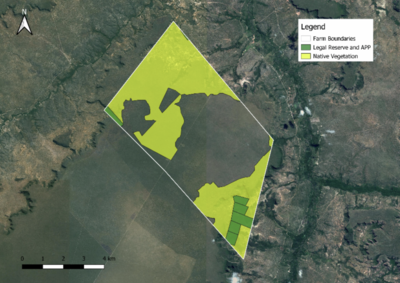 A significant part of this property was burned by wildfires in the summer of 2019. While it remains uncertain whether this fire was man-made or natural, its pattern suggests some level of controlled spread.
Figure 4: Fires at Fazenda Serra Grande, 13 August 2019 and 17 September 2019

BrasilAgro is exposed to forest-based business risks

Contrary to most of its customers, BrasilAgro does not have a zero-deforestation policy. While it is active in Matopiba, an area with high deforestation risks, it does not appear to mitigate any of these risks. In late 2018, the company deforested 1,194 ha in its Fazenda Chaparral, adjacent to its new Rio do Meio asset. As a soy producer and farmland investment firm, the company is active in sectors that have been associated with unsustainable land clearing, deforestation and wildfires. The farmland investment sector has also faced criticism over
a range of social issues
, including community conflicts, violence and human rights violations. Ongoing acquisition, conversion and sale of farmland may expose farmland investors to a string of business risks:
The Harvard Endowment Fund faced legal and stranded asset risks at its Brazilian farmland investment portfolio and was forced to write down USD 1 billion in assets in 2017.
ADM ceased its purchases from BrasilAgro in 2016, though it is unclear whether deforestation was the reason. Bunge, Cargill, and Amaggi, all buyers of soy from BrasilAgro, have zero-deforestation policies.
CRR's financial analysis found that BrasilAgro's deforestation, despite it being legal, could materialize into a number of business risks, including operational, market access and stranded assets.
Brazilian soy output continues to grow as it consolidates its position at the world's top producer with exports rising and the country's industry making inroads in the rising Chinese market. BrasilAgro expects its soy production to rise by 2.3 percent this year and noted that its operations have not been significantly hurt by the COVID-19 outbreak. In its latest earnings report, the company noted that revenue from its soy operations over the past nine months has risen by 68 percent year-on-year. With this type of growth, the sector may increasingly risk having deforestation in supply chains. The Cerrado biome, the main soy cultivation area, has seen elevated deforestation levels since 2000.
BrasilAgro's top shareholders include the following, none of which have zero-deforestation policies:
Cresud (37 percent)
Autonomy Capital Research (10 percent)
Charles River Administradora de Recursos Financeiros Ltda. (7.6 percent)
Cape Town LLC (4.6 percent)
Kopernik Global Investors (1.7 percent)
Dimensional Fund Advisors (1.5 percent)
However, some of BrasilAgro's banks that it has relations with — Rabobank and Santander — have zero-deforestation policies. Rabobank has been involved with Tropical Forest Alliance 2020 and is a member of the Round Table on Responsible Soy (RTRS). Santander is a member of the Soft Commodities Compact, which supports net zero deforestation by 2020.