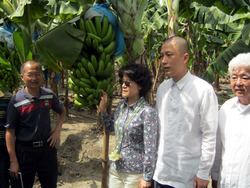 AgriNurture Inc CEO Antonio Tiu, second from right
PNA | 10 May 2020
DA backs ANI, IP groups tie-up for rice-corn project
By Lilybeth Ison
MANILA – The Department of Agriculture (DA) is supporting the "BigMa" (Bigas-Mais) rice-corn blending initiative of listed firm AgriNurture, Inc. (ANI) and groups of indigenous peoples (IPs) in Mindanao to devote vast tracts of idle land for planting white corn as an alternative to reduce dependence on imported rice.
In a virtual presser over the weekend, Agriculture Secretary William Dar said the DA is allocating some PHP230 million for the development of IP lands plus the initial seed requirements for the "BigMa" project.
"We have (an) additional PHP230-million fund to provide livelihood opportunities for IPs in partnership with the NCIP (National Commission on Indigenous Peoples)," he said.
ANI will shoulder additional investments to ensure the project's success from planting up to commercialization.
"We welcome the opportunity to work with DA and our IP partners to help produce alternative staple food like the rice-corn blend to ensure food security," Anthony Tiu, president and chief executive officer of ANI, said in a statement.
Tiu said ANI also committed its technical expertise and resources to "see to it that this project succeeds from inception to full commercial operations."
The Philippines is currently the world's biggest rice importer, and some Southeast Asian nations have started to put a cap on their rice exports.
Citing the rice-corn blend as a healthier alternative, Dar said ANI is planning to commercialize "BigMa" and is eyeing the initial development of 20,000 hectares in Mindanao for white corn production.
"Nagpaplano na mag-commercialize yung blending ng bigas at mais (ANI is planning to commercialize the blending of rice and corn). They are planning to produce white corn in one or two regions in Mindanao," he said.
He added ANI has also committed to buy rice from the National Food Authority (NFA) to be used for blending purposes.
"Almost 20,000 hectares (of land is needed for white corn production)," Dar said, adding that ANI will partner with NCIP "so they can work out an arrangement with the indigenous peoples."
He, however, clarified that only certain areas of IP lands will be used for food production.
NCIP data shows that about 7.7 million hectares are occupied by IPs, or 26 percent of the country's total land area of 30 million hectares.
Annualized rice field is only about 4.5 million hectares yielding less than 4 metric tons of wet paddy per hectare on average. Water footprint per kg of paddy is more than 3,000 liters while corn is less than 1,000 liters.
As of 2019, the NCIP issued 243 certificates of ancestral domain titles (CADTs), with a total land area of 5.7 million hectares and a total of 1.3 million IPs as rights holders.
The project will prioritize employment of idle IP workforce.
Earlier, Dar lauded ANI's initiative to promote the "BigMa" rice-corn blend in the Visayas and Mindanao areas, and eventually in other regions of the country.
He considered the project a "timely initiative" as a food resiliency intervention amid the coronavirus disease 2019 (Covid-19) period and beyond.
"In this time of crisis, we need practical strategies that can produce immediate results. Thus, we are calling on our fellow countrymen, the indigenous peoples or IPs, to transform part, if not most, of their idle ancestral lands into vegetable and high value crop farms," Dar said. (PNA)