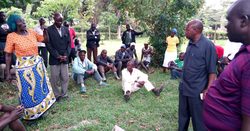 Villagers in Yala Swamp say the trouble began when a new investor, Lake Agro Limited, entered an agreement with an American investor, Dominion Farms Limited, to take over the swamp for the remaining lease period.
Kenya News | 6 April 2020
Trouble brewing in Yala Swamp as villagers accuse tycoons of grabbing their farm

A clash between villagers and tycoons is looming in Yala Swamp, as the locals accuse the later of displacing them from their farms.
Following a disquiet in the area, peasant farmers from the area trekked to Siaya town Monday to seek audience with the area Deputy County Commissioner (DCC).
According to the residents, tycoons from both within and outside the swamp have invaded the area with tractors and were taking up even parcels belonging to old men and women.
Speaking during a meeting with the Siaya DCC, Joseph Sawe, the old men and women said that the problem started when a new investor, Lake Agro limited entered an agreement with an American investor, Dominion farms Ltd. to take over the swamp for the remaining lease period.
"Lake Agro Ltd. wanted to concentrate on sugar cane farming on the area that the American used to plant rice and allowed the villagers to continue using part of its land for subsistence" said Central Alego member of the county assembly, Leonard Oriaro who was also in the delegation.
He said that the local villagers had no problem with each other and know their boundaries as they have been tilling the swamp for decades.
The problem, he said, was some tycoons, some of whom had been contracted by the previous land users and Lake Agro to provide labour in the sugarcane plantations.
Oriaro said that these people used their financial might to invade parcels belonging to the peasants, where they have planted sugarcane for sale to the West Kenya sugar company subsidiary, Lake Agro Ltd.
The MCA appealed to the government to protect the residents from what he called gluttonous grabbers who, he added, had vowed to eliminate those opposed to their activities.
During the meeting, the farmers called on the government to intervene and save them from the well-connected land grabbers whom, they added, had openly been boasting of having connections with top county administrators and the police.
Addressing the occasion, Sawe called for peace amongst the locals, promising that the government will ensure that fairness prevails.
Sawe said it was unfair for people to invade the peasants' parcels, adding that it was the responsibility of the government to protect all the citizens equally.
"We shall not allow a situation where a few people would want to grab everything and cause anarchy. We shall deal with them," he said.
The DCC also said his office will discipline any chief or assistant found to be working in cahoots with those who cause disturbance in the area.