AFSA | 7 April 2020
INVITATION TO GET INVOLVED IN DOCUMENTING AFRICAN LAND AND SOIL CASE STUDIES
Dear Friends, Colleagues & Collaborators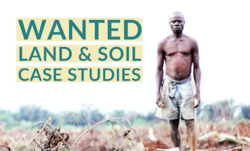 To strengthen the evidence base for sustainable land use, and to share good practice, AFSA is documenting land and soil case studies. We want to demonstrate the benefits of sustainable and regenerative land management, and we are keen to hear about the great work that farmers, pastoralists, indigenous peoples, women, youth, researchers, scientists and projects are doing in this area.
Examples of case studies might include: indigenous land management systems, successful women's land rights actions, innovative soil regeneration projects, agroforestry, bio-fertilisers, community land use management, and many more.
If you have a land and soil case you would like to share, you are invited to get involved. This is a two stage process. First, we ask you to send us a short Expression of Interest summarizing your proposed case study. Please fill in the
Expression of Interest form
and return it to:
[email protected]
by the deadline of 15 April 2020.
You can see our case studies on our website:
http://afsafrica.org
Many thanks in advance
http://farmlandgrab.org/uploads/attachment/AFSA_Land_and_Soil_Case_Studies_Expression_of_Interest_Form_2020.docx