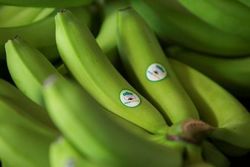 bizhub | 2 January 2020
Local firm exports first batch of bananas to China
The Hoang Anh Gia Lai Agricultural JSC (HAGL Agrico) has opened a banana packaging plant in Cambodia and shipped its first batch of fresh bananas to China to meet growing demand, the Khmer Times reported last week.
The company had planted 7,000ha of bananas, the newspaper cited Nguyen Quan Anh, general director of HAGL Agrico - an affiliate of Hoang Anh Gia Lai Group - as saying.
He added the bananas would be packaged at ten facilities with an annual capacity of 25,000 tonnes, and then exported to China's Beijing, Dalian and Shanghai.
According to Anh, China had huge demand for tropical fruit such as dragon fruit, grapefruit, mango, jackfruit and bananas. Nearly 18 million tonnes of bananas were shipped to the country each year.
The company targets increasing its output to 500,000 tonnes next year, he said.
HAGL Agrico has 18,000ha of agricultural land worth about US$400 million in Ratanakiri province northeast Cambodia on the border with Viet Nam and Laos.
The company has so far created 10,000 jobs, with a further 5,000 expected next year. — VNS