Myanmar Times| 6 February 2020
Mandalay legislator seeks inspections of farmland for foreign renters
by Kyaw Ko Ko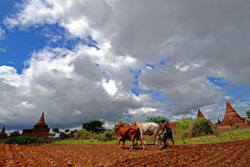 A Mandalay Region legislator wants the regional government to investigate reports of farmland being illegally rented to foreigners, which could affect food security.
Daw Thin Mya Mya Thin, MP for Myitthar Constituency 2, submitted the proposal to the regional parliament on Tuesday.
"It aims to ensure that the public follows the law and the government receive proper taxes," she said.
She said that foreign companies are using local proxy firms to illegally lease and farm land.
Such activity could damage the land and the country's food security, she said.
While foreign companies can lease farmland, she said, they are responsible for ensuring that the land remains fertile.
"This activity needs to be supervised," she said. "Some people are leasing land without paying taxes."
She added that with proper supervision, the farmland could be leased, pawned, or exchanged as prescribed by the Myanmar government's central farm land management committee. – Translated