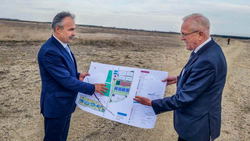 Danas | 26 January 2020
This is a Google translation of the Bosnian original
Vucic and Orban's Agrarian Policy
By: Misa Brkic
I am happy that we are catching up with Hungary, the economic gap between Hungary and Serbia is no longer widening…
Now it is said how fast Serbia will reach certain countries like Hungary… It shows how well Serbia is on its way…
Thus, on the first day of the Serbian New Year, the President of the State, Aleksandar Vucic, spoke while visiting the Mei Ta factory in Obrenovac.
It is not the first time President Vucic has mentioned Hungary in order to brag about the parallels between the two neighboring countries and to show how successfully he copied the economic policies of Hungarian Prime Minister Viktor Orban.
However, the attempts of the Serbian authorities have proved to be only pale replicas of the economic policy of the Orban Government.
An example would be economic policy in agriculture, which both Serbia and Hungary consider to be a strategic economic branch.
While in Hungary the economic paradigm in agriculture has changed (the "new era"), Serbia still suffers from the permanent inability of governing structures to articulate the development model and the incurable public infestation with traditional development concepts (sovkhozes).
While Hungary has no problem with ideological prejudice about ownership (especially foreign ownership) of land, Belgrade is still laced with grave graffiti on "stop selling land to foreigners".
A key news pointing to a new paradigm in Hungary was the investment by German company Fakt AG last year, which bought 330 hectares of waterfowl in the municipalities of Hédéshal and Bizonja, not far from the border with Austria and Slovakia, for € 20 million.
Fact AG Group is one of Europe's largest real estate investors and investor in various fields of business, investing one billion euros in an integrated ecological, agricultural and economic center in the northwest of Hungary, combining through a sustainable management of agrarian production, logistics and housing where five thousand workers will receive jobs .
Many have already called this investment the largest in the history of the country, and its size is evidenced by the comparison that in 2019, 10 investments (in the Hungarian industry) from South Korea and Japan totaled - three billion euros.
Experts have already calculated that Fakt AG will create production capacity higher than the total production of the five largest Hungarian agricultural companies.
The Hedeshalom-Bizonja Project will have greenhouses on 50 hectares for growing peppers, tomatoes, eggplants and herbs.
Asparagus and berries will be planted on 80 "open" acres and aquaponic vegetable production on nine acres.
A farm for processing agricultural products (not only from their own plantations), a warehouse and cold stores will be built on 15 hectares. And the largest pond in Europe is planned.
A logistics center, a special railway station, access roads, a conference center with a hotel, a restaurant and a shopping center will be built.
The investment decision was made by Fakt AG after analyzing European Commission data showing that greenhouse farming is growing at about 15% annually.
In 2018, the value of greenhouse fruit and vegetable production was € 16 billion, with forecasts projected to be € 25.5 billion in 2025.
Since Fakt AG invests in a sector not narrowly specialized, it has initially agreed to cooperate with the agricultural association Landgard, one of the largest distributors in Germany, which turns over € 2 billion annually in flowers and agrarian products.
Fact AG has also hired German energy company E.ON to provide environmentally sustainable carbon-neutral energy for greenhouses, a complete production area and a new city (with single-family homes, multi-storey homes, kindergartens, primary and secondary schools) mainly rely on solar and thermal sources and biomass.
Among the partners with whom the contract was concluded is the Hungarian construction company KESZ Group as a contractor for all objects of this project.
The Hungarian authorities have calculated that this new investment will significantly reduce fruit and vegetable imports, with around € 500 million being spent so far and helping to create a large and balanced base of quality export goods, with the largest share of domestic labor being produced.
In order to stimulate rural development and strengthen the local government's negotiating capacity, the Hungarian Government has approved subsidies of 220 million HUF (about 700,000 euros) for the participation in the utility and infrastructure equipment of this agro-industrial park.
Otherwise, the Hungarian Government has opted for a new model of subsidies that, instead of a product-oriented economy, wants to stimulate a development-oriented economy and where job creation is no longer a prerequisite for state aid.
By changing its strategy, Hungary seeks to support technology-oriented investments that bring new processes, procedures and technologies to the country and add value to existing businesses.
Unlike Hungary, Serbia has opted for a different - wrong - concept.
The head of state persistently scoops up "thread and rope" investors and distributes subsidies to them to fulfill the populist promise of reducing unemployment, without taking into account the technological level of new factories.
Thus, in a short time, Serbia has become a country of low-tech cheap jobs that produce low value-added goods.
Like Hungary, Serbia has a high agrarian potential ("we can feed half of Europe") and sees agriculture as a development opportunity, but it has little ability to capitalize on potential and make sense of development.
The Belgrade authorities have shown so far that they have no knowledge or clear strategy. That is why she has opted for a model close to her political being - non-transparent negotiation with investors who accept the "four eyes" conversation. Thus, Arab "strategic" partners from Al Rafaved and Al Dahra arrived in Serbia.
The German investment fund Fakt AG entered Hungary last year as the government sent clear signals to international investors what its agricultural development strategy is and what the rules of the game are.
Unfortunately, Serbia has neither clear rules of the game nor a development strategy for the agricultural sector, which is why the government confuses itself with Arab investors in secret meetings and makes real deals under the grain. All such dealings, after the initial announcements about their contribution to the "flourishing" of the Serbian agrarian, are notoriously ending.
Serbia has so far sold to Arab investors what it has rented for nearly 30,000 hectares for an undetermined amount of money (in the pledges, it was around one billion euros). Although these companies have been operating in Serbia for several years, the effects of their business on the total Serbian agriculture in terms of produced and exported quantities of agrarian products, raising technological equipment and changing towards a development-oriented economy are unknown.
Back in 2013, the then Deputy Prime Minister and Minister of Defense, Aleksandar Vucic, signed a joint venture investment agreement with Abu Dhabi in Abu Dhabi with $ 400 million worth of "world leading agro-industrial company" Al Dahra.
One third of the investment was related to the purchase of the assets of eight failed agricultural plants, and the rest was to be invested in irrigation systems and the purchase of modern equipment for at least five feed factories.
On that occasion, the public was informed that Serbia would receive another $ 400 million from the Abu Dhabi Development Fund and become one of the major food exporters.
Seven years later, "no one drinks, no one pays" is still known.
It has only become apparent that Belgrade's partners in revitalizing Serbian agriculture - Al Ravafed, Al Dahra and Elit agro LLC (and through them the Optim investments group, Optim United investment, Al Ain Holding and Jas holding) - are mostly scamming " under the grain "by rewriting the ownership of the arable land to one another and piling up acres of arable land through fairly non-transparent financial arrangements.
None of their fulfillment of commitments (for example, the payment of land leases taken at 20-30 years), the effects of business on the development of Serbian agriculture and the new concept that could change the DNA of the domestic agro-industry are not available to the public because UAE investors are privileged (not subject to procurement procedures and tenders and other procedures defined by national regulations of Serbia) and protected by the seal of a secret interstate agreement.
Al Ravafed Holding had a contractual obligation to invest € 156.9 million since 2013.
It is mainly engaged in the production of wheat, corn, sunflower and soybeans on about 10,400 hectares, of which 2,586 hectares of its own land, and the rest is used through a business-technical cooperation agreement and a long-term lease.
He manages several companies: the military establishment "Morović" (Karadjordjevo), "Backa" (Sivac), "Jadran" (Nova Gaydra), in Bac and Sonta.
In 2018, the company operated with a loss of more than two million euros and debts of more than 50 million euros and did not fulfill contractual obligations (19 million euros) of investments in irrigation systems.
It is unknown whether and in what amount he pays lease of arable land rented at 20 and 30 years.
Due to poor business results, Al Ravafed was taken over by Elite Agro LLC, also registered in Abu Dhabi, which operates in Serbia as a Yugo Elite Agro firm and owns the Zobnatica estate in Backa Topola.
Elit agro owns about 2,700 hectares, and leases 9,321 hectares and runs APR as a micro-enterprise with a business income of about 30 million dinars.
In 2016, Elit agro changed its production and sowing structure at Zobnatica (sold all pigs and closed a farm that delivered 11,000 fatteners a year and planted potatoes and blueberries).
Al Dahra (owned by Muhammad bin Zayed Nahyan) became famous in 2013 when it was announced that it would invest $ 400 million under the interstate agreement and build five feed factories.
Al Dahr Holding then announced that the company would make strategic food reserves in Serbia, which would help meet the strategic needs of the Emirates and offer the surplus to the international market.
The promise to buy eight plants and build five feed mills ended with the purchase of PKB for 105 million euros, with a commitment to invest another 30 million in three years.
Al Dahra will grow sugar beets, sunflower, wheat, corn, barley and vegetables in 17,500 hectares in Belgrade.
When it comes to calculations - Hungary will cultivate and valorise 330 hectares of swamp beside the Danube transparently and valorize over one billion euros and the investor will create the largest agricultural producer in Central Europe.
Serbia has sold or leased 30,000 hectares of the most fertile country for a couple of hundred million euros to investors from the Middle East who have so far mostly "repacked" ownership without a clear vision for the development and introduction of new technologies, without changing the sowing structure and without significantly affecting the increase in production and exports of the Serbian agrarian.