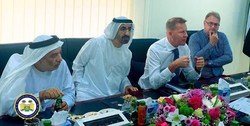 Meeting with the Chairman of Elite Agro, Sultan Alshamsi – Sitting second from left. Photo credit – State house Communication Team
Pan African Visions | 29 October 2019
President Julius Maada Bio engages Elite Agro and Spire USA Inc.for an upgrade agriculture industry.
By Uzman Unis Bah
Dubai, United Arab Emirates -- His Excellency President Julius Maada Bio has met with the Chairman of Elite Agro, Sultan Alshamsi, and the President of Spire USA Inc., Sarath Upali Karunaratna Pothuwilage in a bid to lure in productive agricultural investments in Sierra Leone.
Elite Agro is the leading producer and provider of agricultural supplies in the UAE, engaging in growing, sourcing, importing and marketing a wide range of high-value agricultural products through world-class technology and effective distribution chain with the most economic use of natural resources. The company operates in several countries in Africa and around the world.
President Bio said that food security is a vital part of his human capital development priority, adding that adequate food productivity was integral to the country's overall developmental plans. He said his government was encouraging investment in the agricultural sector to be able to produce more food, create jobs, and reduce the importation of foodstuff, particularly rice – the staple food of the country.
He noted that Sierra Leone was a perfect place for agricultural activities because of its fertile land and added that with the required modern technology, the country would return to its past glory of being a rice exporting nation. He also mentioned that he was looking at possible ways of transferring modern skills to locals, saying that that was the best way of taking people out of poverty.
Producing more food, reducing rice importation and as well as beginning to export food items to other parts of the world is essential for the country's development.
"We have landed the African Free Trade which means we also have a big market of 1.2 billion to sell our products. We also want improved technologies because that will help us get improved variety of crops,'
' he said.
Chairman of the Elite Agro, Sultan Alshamsi, said that they were interested in investing in Sierra Leone because of the favourite climate they had seen. He said they were ready to help the West African nation grow its own food to feed its people with enough to export, which would help boost the local economy.
President Bio also engaged Spire USA, an aqua-agri technology and finance solutions provider. The company plans to invest in an Aqua & Agri Based Community Development Export City Project, which will provide homes and jobs for 2500 poverty-stricken families. The Spire project will provide a full time job for two people of a family in a household, in addition to water, electricity and a 2 bedroom (plus living, dining room and bathroom).