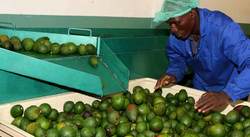 Global AgInvesting | 17 January 2020
HMC investment in Westfalia Fruit International to drive global expansion for avocados
By Lynda Kiernan
Harvard Management Company (HMC) has acquired a minority stake in Westfalia Fruit International (WFI), a leading supplier of fresh fruit and related value-added products to international markets.
Established 70 years ago, and specializing in avocados, WFI's estates represent the largest avocado-growing footprint in the world, with operations in all major growing regions including southern Africa, Mexico, Chile, Peru, and the state of California. This undisclosed investment by HMC will be used by WFI in support of its goal to expand its prominence in the global avocado supply market.
"Westfalia is a global leader in the avocado market with a commitment to environmentally sustainable management," said Colin Butterfield, managing director, Natural Resources, HMC.
"Its vertically integrated operations are uniquely positioned to benefit from the growth in global avocado consumption and make it a great fit for our portfolio. We are excited to have the opportunity to join them in this latest stage of their growth."
Over the past 10 years, global avocado production has climbed from 3 million metric tons to approximately 5 million metric tons, reflecting output growth of about 200,000 metric tons per year, according to Philippe Binard, manager of Freshfel Europe, an EU fresh produce trade association, when speaking at Fruit Logistica last year.
Valued at $13.64 billion in 2018, the global avocado market is expected to grow at a CAGR of 5.9 percent to reach a value of $21.56 billion by 2026, according to data compiled by Transparency Market Research.
Despite global consumption of fresh avocados steadily increasing for the past 15 years, it appears that the market remains in position for continued growth, as U.S. and EU imports break yearly records, and demand in Asia keeps rising, with imports to China doubling on a near yearly basis.
One reflection of this potential can be seen in the U.S. market. Over the past 20 years U.S. avocado consumption has tripled, however, it is key to note that this trend is extremely region-specific. While per capita consumption on the West Coast stands at almost 13 pounds per person per year, on the East Coast, consumption numbers range between 2 and 4 pounds per year per person.
"I think that was an indication that maybe the market is not in full saturation and there is still potential for growth in the U.S.," said Binard.
Likewise, consumption in eastern and southern Europe stands at less than 2 pounds per person, while consumption in Scandinavian countries doubles these numbers.
These long-term trend indications align with the mandate in place for HMC's $40.9 billion asset portfolio, while also giving Westfalia the necessary capital to fund its key initiatives, and the ability to collaborate with HMC's team of experienced team of natural resource investors.
The deal also brings together two partners with similar views and goals in regard to sustainability.
Taking a three-pronged approach, HMC prioritizes:
ESG Integration – incorporating environmental, social and governance considerations when selecting its managers, or when conducting underwriting, analysis, and monitoring.
Active Ownership – acting as stewards, and engaging with managers to adopt and promote best practices in corporate governance.
And Collaboration – becoming the first U.S. endowment to be a signatory to the UN's Principles for Responsible Investment (PRI), and an active member of the PRI Investor Working Group on Corporate Climate Change Lobbying, an initiative taking action to urge businesses to prevent climate change. HMC also is a signatory for Investor Expectations on Corporate Climate Lobbying, establishing expectations for company practice and disclosure on climate change-related policy.
"The decision to partner with HMC was an easy one, given our similar values and commitment to sustainable business principles," said Alk Brand, the newly appointed CEO of Westfalia Fruit. "This transaction positions us well for pursuing strategic objectives within the global Group and significantly contributes towards our vision of being a leader in the global avocado industry."