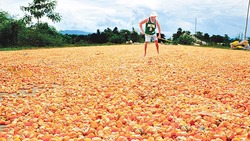 Manila Standard | 27 December 2019

Agrinurture plans corn plantation in Palawan province
by Jenniffer B. Austria

Agrinurture Inc. is in talks with the Department of Justice through the Bureau of Corrections over the development of about 2,000 hectares of property into an integrated agri-tourism corn plantation in Palawan.

ANI said in a disclosure to the stock exchange both parties would conduct their respective due diligence before arriving at a definitive agreement to finalize the transaction.

The due diligence is set to be completed by the first quarter of 2020.
ANI plans to fund the project development while the Bureau of Corrections will provide the land.

"The proposed joint venture is intended to expand the company's business through corn production and agri-tourism," ANI said.

ANI said its board of directors approved the acquisition of Nutriceutical Food Corp. in a bid to boost its market for organic coconut products in China.

Nutriceutical is mainly engaged in the manufacturing, marketing, distribution, import and export of organic foods, drinks and other natural commodities, and has a wide market in China.

"The intended acquisition will help boost the corporation's market for organic coconut products in China," ANI said.

ANI is also divesting its stake in two wholly-owned subsidiaries, namely Lucky Fruit and Vegetable Products Inc., and First Class Agriculture Corp.

Lucky Fruit is mainly engaged in trading while First Class that is in the business of trading goods, import and export.

ANI said the disposition of the assets was aimed to raise working capital and clean up the company's books.

The divestments would not affect the financial condition and operations of the company, ANI said.

The terms and conditions of the divestments, including the selling price, are still being negotiated and finalized.

ANI is a listed company chaired by businessman Antonio Tiu. It is one of the Philippines' major exporters to the world market.

ANI supplies home-grown fruits such as mango, banana, and pineapple to customers in Hong Kong, Mainland China, the Middle East, and different European countries.

In August, Singapore-based Black River, a wholly-owned subsidiary of Black River Capital Partners Fund (Food) LP, acquired 50 million ANI shares for P682.1 million.