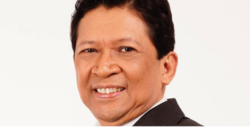 Fernando L. Martinez, Founder, Chairman and Chief Executive Officer of the Eastern Petroleum Group of Companies
Manila Bulletin | 8 January 2020
50,000-hectare palm oil plantation to be developed in Caraga region
By Mike Crismundo
BUTUAN CITY – An oil firm is plan­ning to develop an initial 50,000-hectare palm oil plantation in Northeastern Min­danao or the Caraga region this year.
According to Department of Trade and Industry (DTI) Regional Director Bri­elgo O. Pagaran, the Eastern Petroleum Group of Companies (EPGC) is targeting areas in the region, particularly in the Agusan provinces, where good and suit­able terrain would be good for planting palm trees.
Pagaran added EPGC was looking for available lands which could be leased for 25 years with automatic renewal of another 25 years.
"With the targeted initial 50,000 hectares palm oil plantation develop­ment, more than 5,000 families will benefit of the program and will generate employment in the region," he said.
The company is eyeing to develop at least 200,000 hectares palm oil plan­tation in Caraga region in the coming years.
"Everything is now in the process for this multi-million palm oil develop­ment investments by this independent oil company," said the region's top DTI 13 official without elaborating any further of the technical aspect of the company's plans and programs.
Through the Palmoil and Agricultural Land Management for Economic Re-integration and Sustainability or PALM­ERS, the DTI as project initiator, EPGC had filed its letter of intent last year to develope wide palm oil plantation in the region, according to Jernalita"Jorge" P.Silaga, chief of staff and Senior Trade and Industry Development Specialist of DTI 13.
The independent oil company already broke ground at its "Cabisa De Bue­navista" Industrial Estate in Barangay Alubijid, Buenavista town, Agusan del Norte in October last year.
Silaga, who is also PALMERS proj­ect anchor, said EPGC was another big contributor of palm oil production in Caraga.
To date, about 25,827.93 hectares are planted to palm oil trees, all over the region, with the bulk of located mostly in Agusan del Sur, Silaga said.
Some of these palm oil plantations are also located in Surigao del Sur and Agusan del Norte.
Currently, more than 150,000 met­ric tons of palm oil are being produced every year by these plantation areas, Silaga said.
Oil mills in the towns of Trento and Rosario in Agusan del Sur province and another in the town of Barobo, in Surigao del Sur are currently producing crude palm oil.