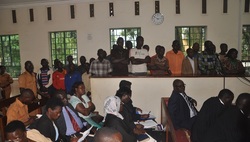 Photo: witnessradio.org
witnessradio.org | 8 January 2020
Criminal trial for 28 land rights defenders set to resume
Virtually three weeks after an abrupt break, the criminal trial for the 28 land rights defenders is resuming today, January 8th, 2020 at Mubende High Court before the visiting judge Justice Anthony Oyuko Ojoko, co-opted from Arua High Court. Justice Oyuk, has since been transferred to a new station in the recent changes announced by the judiciary.
The trial which started on October, 10th and adjourned on November, 27th, 2019 is expected to resume with the trial. The defense lawyers are objecting to the trial on grounds of procedure errors.
Grace Nantubiro and Ronald Mugwabya are among the 28 land defenders and also members of witnessradio.org. They were arrested because of being on the frontline defending over 3000 people from were being violently evicted by local businessman George Kaweesi. Kaweesi was shielded by police and the due process was never followed.
Their pleas fell on deaf-ears until a violent crash ensued between the communities and the workers of a businessman that claimed a life of one Yunus Kasajja. Kasajja had been tasked by Kaweesi to supervise the eviction exercise.
The land under dispute is registered on Block 168, Plot 19, 22 and 23 with over 322.5 hectares covering five villages namely, Kambuye, Kikono, Kyabaana, Kanseera and Lwensanga in East Division, Mubende Municipality, Mubende district.
The land forcefully taken was hosting some of the families that were evicted by Kaweeri Coffee Plantation limited in the early 2000s. The 600 families are part of the 2000 families, relocated to that land as compensation for what they had lost to Kaweeri Coffee Plantation limited. That land was formerly owned by Emmanuel Kayiwa Bikko who has since passed on.
Lately, the land-grabbing elements have resorted to using the Penal Code to charge land defenders because the law is lethal. It imposes harsher prison sentences than any other and also obtaining bail once charged under it is either legally hard or too expensive for the rural communities in Uganda.
These persecutions are manifesting majorly in districts that host minerals including sub-regions of Karamoja, Bunyoro and Buganda.
Essentially, the prosecution alleges that on October, 12th, 2018, the accused: Nantubiro Grace and Mugwabya Ronald and others at Kambuye-Kanseera, Mubende district, robbed Yunus Kasajja Tabu of his three mobile phones and thereafter proceeded to end his life. If found guilty of the murder charge, they stand a chance of facing the ultimate punishment which is death.