Dim Sums Blogspot| 11 December 2019
China-Africa: "Huge" ag cooperation potential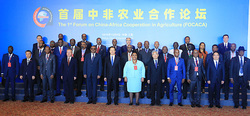 Photo from China Ministry of Agriculture and Rural Affairs.
China hosted African agricultural leaders for a forum this week where Chinese officials pledged to expand and deepen cooperation, investment, and trade with African agriculture over the next 3 years.
According to China's Ministry of Agriculture and Rural Affairs
, 500 representatives from African countries and international organizations attended the meeting hosted by the Ministry and the Hainan Provincial Government in the provincial capital of Sanya, December 9. Attendees heard speeches from China's Minister and Vice Minister of Agriculture and Rural Affairs, the Hainan governor, and African leaders. China's ag minister emphasized the "huge potential" for China-Africa cooperation in agriculture in the "new era" proclaimed by Xi Jinping. The focus of cooperation will be on food security, poverty alleviation, agricultural science and technology, agricultural modernization, and giving developing countries a stronger "voice" in global food and agricultural governance.
China's ag minister pledged to:
expand investment in Africa by Chinese companies
build demonstration farms
expand cooperation with African research centers
host African technicians for 10,000 trainings in the next 3 years
boost annual China-Africa agricultural trade to $10 billion within a decade from its current level of $6.9 billion
achieve basic food security for Africa by 2030
China's ag ministry signed a memorandum of understanding with the African Union Commission and the African Green Revolution Alliance. A "Sanya Declaration" calling for greater China-Africa agricultural cooperation was issued, and 11 project agreements were signed by government departments, international organizations, research units, and companies.
According to China's ag minister,
China's agricultural trade with Africa expanded more than 10-fold from 2000 to 2018
Chinese enterprises have invested 15 billion yuan in Africa
China has 115 agricultural projects valued at $5 million or more in two-thirds of African countries
Chinese agricultural research institutes have agreements with African counterparts in 12 countries, and they send experts to Africa for 10,000 person-visits each year
China has agricultural demonstration centers in 19 African countries
There are 10 South-South research projects in African countries and over 300 agricultural experimental trial
The Chinese ag minister also met with delegations from African countries individually before the meeting. In his meeting with the South African delegation, he remarked that China's cooperation with South Africa is a model for further deepening. The Chinese minister remarked that he had recently attended the 10th anniversary of China-Africa FAO South-South Cooperation held in Uganda. The South African Minister of Land Reform and Rural Development expressed interest in collaboration on plant diseases.