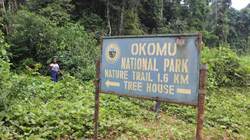 Guardian | 9 December 2019

Coalition, firm differ over alleged land grabbing in Okomu
By Chinedum Uwaegbulam
A coalition of civil society organisations has alleged that a multinational company – Okomu Oil Palm Company PLC is engaged in land grabbing, deforestation and killing of endangered elephant calf within its plantation.
The coalition comprising, Environmental Rights Action/Friends of the Earth Nigeria (ERA/FOEN), Protection for Okomu National Park and the Environment (PONPE), Coalition Against Land grabbing and Deforestation (CALD) said the company has forcibly taken over about 16,000 hectares from the Okomu National Park (ONP) area and buffers of the park.
They also stressed that the incursions without a participatory Environmental and Social Impacts Assessments means the expansion was illegally conducted.
The groups alleged that farmlands were illegally acquired without compensation for crops destroyed. "This has put some of the adjoining communities under serious threat, evictions, and destruction of their rural livelihoods."
At a press briefing addressed by ERA/FOEN Executive Director, Dr. Godwin Uyi Ojo, they condemned the high rate of deforestation in areas contiguous to the ONP for the expansion of the plantation. "The buffer zone is under severe pressure from oil palm plantation expansion, rare endemic species such as the white throated monkeys, dwarf crocodiles, buffalos, duikers, and other biodiversity continued to stray into the farmlands and plantations."Ojo who was represented by Tony Erha also accused workers of the company for killing a rare Elephant calf known as Guinea-Congo lowland rainforest African Elephant.
They urged the Federal Ministry of Environment and the National Park Service (NPS) to set up a panel of inquiry to investigate the killing of the elephant and bring the culprits to book to serve as deterrent.They said the panel should look into the land grabbing of the ONP buffer lands by the company, and retrieve the portions of the 13, 750 hectares of land, which Edo State government had revoked in Owana and Okomu forest reserves and convert it into the park's buffers.
The coalition urged the environment minister to probe the alleged approval of the Environment Impact Assessment (EIA) certification to Okomu plc as it was conducted in shoddy manner, without due process and public hearing.Secretary to the Protection for Okomu National Park and the Environment, Mr. Tony Okhale, called on the Federal Ministry of Environment and the National Park Service, to save the park from violation.
In reaction, the company's spokesman, Fidelis Oliseh disagreed with the coalition allegations, saying that contrary to the insinuations, the company has been in the forefront of protecting the endangered species. He said one of the staff; Monday Iboi recently rescued a stray baby elephant at the Okomu forest in Udo, near Benin in Ovia South West Local Government Area of Edo State.