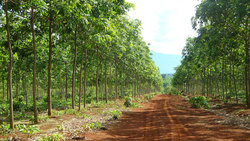 Vientiane Times November 22, 2019
NA endorses report on land concessions
The National Assembly on Tuesday approved the results of a report on inspections into land rental and concessions granted to developers.
After hearing the report, Assembly members exchanged views on the subject with some saying there must be clearly-defined measures to penalise contract violators in line with laws and regulations.
Chairman of the Assembly's Committee on Economy, Technology and Environment, Mr Bounpone Sisoulath, reported the results of the inspection of the implementation of regulations relating to the rental of land and land concessions through agreements made with the state.
As of now, the government has awarded land concessions to foreign and domestic companies for the use of about 11.7 million hectares. "But the amount of land actually being used for development is about 549,248 hectares," Mr Bounpone said.
A total of 173 contracts have been signed for the rental of land, while land concessions have been awarded for 1,569 projects, and concession agreements with public participation have been granted for 16 projects.
The central government authorised 427 projects, while provincial authorities have given permission for 956 projects. In addition, district administrations authorised developers to undertake about 185 projects and village offices gave permission for two schemes.
Developers mainly invested in forestry, mining and hydropower. With regard to land use management, the government is strengthening laws and regulations on the management and use of natural resources and the environment, especially in relation to land rental and concessions.
Officials have looked at ways to improve laws on land use, investment promotion, and electricity, and the law on agriculture and forestry. The government has drawn up a national land allocation master plan and improved land management coordination between central and local government bodies.