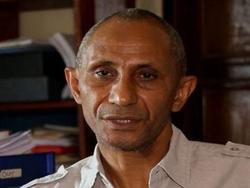 Joe Rahall
Politico SL | 09-Nov-2019
Sierra Leone environmentalist fights contempt charges in High Court
By Kemo Cham
The High Court of Sierra Leone on Thursday adjourned a contempt of court hearing against the rights campaign group, Green Scenery, after the plaintiff, the multinational agribusiness firm SOCFIN failed to turn up in court.
Justice Komba Kamanda adjourned the case to November 19th after a brief appearance of the defense on the first day of the hearing. It also followed an application by the Defense Counsel, Lawyer Emmanuel Saffa Abdulai, for a judgment that led to the contempt charges to be set aside.
Abdulai is also seeking the court to ascertain the veracity of the ruling supposedly passed by a lower court against his client.
Green Scenery, through its Executive Director Joseph Rahall, was initially sued for defamatory libel by SOCFIN in connection to the firm's battle with campaigners over its operations in the southern region of the country.
In 2011 SOCFIN obtained a 50-year lease for 6, 500 ha of a fertile land in Sahn Malen Chiefdom in Pujehun District, where it cultivates palm oil for export. But it has always faced opposition from locals who accuse the company of destroying their livelihoods.
They have organized themselves under a community-based rights defenders group called the Malen Affected Land Owners and Users Association (MALOA).
Green Scenery, on the other hand, works on Environment Protection, Human rights, land governance Advocacy and sustainable Human Security. The organization has been working with MALOA in providing capacity building since its inception.
SOCFIN was offended by a report done by Green Scenery earlier this year, which outlines the issues around the company's operations. The report titled: 'Land Grabbing for palm oil in Sierra Leone,' looked at the human rights implications of SOCFIN's activities.
Following the publication, SOCFIN sued Green Scenery for defamatory libel and the case was supposed to be heard at a Freetown Magistrate Court. The company claimed that ruling on that case was passed and that Green Scenery was ordered to refrain from making any further publication on the content of the report.
Thursday's hearing was necessitated by the company's claim that Green Scenery violated that court order.
But both Mr Rahall and his Lawyer questioned the veracity of the ruling. They said neither were they served any notice to appear in court, nor were they served notice of a ruling.
Mr Rahall said neither did he receive any ruling, nor did he publish anything about SOCFIN since July, when the supposed ruling was passed on the defamatory libel suit.
"They should have served me personally or my lawyer if there was any such ruling," he told Politico in a telephone interview after Thursday's hearing.
Lawyer Abdulai admitted that he did not file a defense notice when the initial suit was made and he said he thought that the case had been abandoned based on personal conversations with the plaintiff's lawyer and the fact that he didn't receive any notice to the effect from thw court.
Abdulai added that there was no basis to file a contempt charge against his client when they had no idea that a ruling had been passed.
"I am surprised to see a notice inviting my client to answer to a contempt of court charge," he said.
SOCFIN, according to Thursday's proceeding, claimed that it published the outcome of the default judgment in national newspapers. But the defense counsel said the court couldn't have published the outcome of such a ruling without informing the other party.
Lawyer Pa Momoh Fofana, counsel for SOCFIN, would not comment on the issue because it is already in court.
Abdulai is also representing 18 members of MALOA who were also scheduled to appear before a magistrate court in a separate case involving SOCFIN on the same day.
MALOA is headed by Independent Member of Parliament, Sheika Musa Sama. The accused were arrested following a land conflict between aggrieved land owners and SOCFIN. That incident in January led to the death of two people.