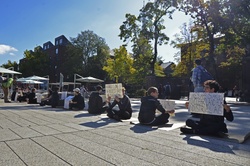 Divest Harvard students gathered in Science Center Plaza to protest the University's holdings of Brazilian land. (Photo: Steve S. Li)
Harvard Crimson | 22 October 2019
Divest Harvard holds protest about university's Brazilian land ownership
By Alexandra A. Chaidez and Meena Venkataramanan, Crimson Staff Writers
Divest Harvard — a student group demanding the University divest from fossil fuels — hosted a day of events Monday calling attention to Harvard's ownership of Brazilian land and reigniting its calls for the school to sell those holdings in the name of environmentalism.
Members of Divest Harvard have remained vocal about Harvard's investments in land and agribusiness around the world. The Harvard Management Company — the University's investing arm — owns 300,000 hectares of land in the Brazilian Cerrado, an area of wooded grasslands that border the Amazon rainforest, according to a 2018 report by activist group Genetic Resources Action International.
On Monday morning, nearly a dozen members of Divest Harvard sat in the Science Center Plaza and held signs decrying Harvard's land investments.
Later in the day, more than 20 protesters gathered to hear Altamiran L. Ribeiro, an organizer from the Pastoral Land Commission of the Catholic Church in Piaui­, Brazil, speak about Harvard's land ownership in Brazil. Ribeiro was joined by members of ActionAid, a global organization that seeks to promote women's rights and work against poverty and injustice.
Speaking in Portuguese interpreted by ActionAid Brazil's Campaigns Adviser Emmanuel Ponte, Ribeiro criticized what he called Harvard's "land-grabbing" practices, which he said perpetuate environmental destruction.
"Each piece of land that Harvard buys, in any part of the world, they are grabbing land that belongs to someone else," Ribeiro said. "Every dollar that Harvard invests in soy production for biofuels is also destroying lives, because in soy production they use pesticides that contaminate the soil and water and the people who live around it."
Ribeiro said he believes that the land investments in the Cerrado are harmful to land and water sources and negatively impact surrounding residents of the region, including indigenous people.
"We cannot allow [Harvard] to say they're investing there to guarantee the future of the University and those who will have their pensions and investments, because that's a big lie," he said. "The profit that comes from those investments is a profit that is tainted with blood, pain, and suffering from those communities."
HMC spokesperson Patrick S. McKiernan declined to comment on Harvard's land investments in Brazil.
"HMC does not comment on specific investments," McKiernan wrote in an email Monday.
Rebeca R. Serson '22, a student from Sao Paulo, Brazil who opened the discussion, said she believes Harvard's land ownership practices are "deplorable."
"Just seeing that an institution that is supposed to set an example for other institutions and people worldwide has these lands and is contributing to climate change and all of the effects associated with that makes me very sad and makes me kind of embarrassed," Serson said. "How can this institution that we look up to do so much contributing to something like this?"
—Staff writer Alexandra A. Chaidez can be reached at
[email protected]
. Follow her on Twitter @a_achaidez.
—Staff writer Meena Venkataramanan can be reached at
[email protected]
. Follow her on Twitter @mvenk82.