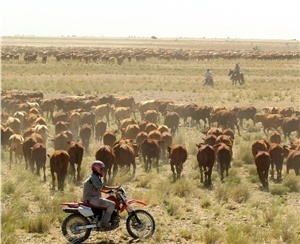 Emirates Business 24/7 | Sunday, April 19, 2009
Darren Stubing
UAE food processing and poultry group Iffco has justifiably ruffled some feathers in Australia. Earlier this year, Iffco acquired a 14.99 per cent stake in Australian Agricultural Company (AAC) from Futuris Corporation for AU$64.7 million (Dh171.6m). AAC is the largest beef cattle company in Australia, running around 500,000 beef cattle on 21 cattle stations comprising 8.2 million hectares, which represents around 1.2 per cent of Australia's land mass.
Arab investment in agricultural production has become a noted strategy over the last couple of years as high price volatility has increased food security concerns; the majority of such investment has consisted of sovereign wealth funds being used to secure land tenure in resource-rich developing countries, mainly in Africa and Asia. Iffco's move into AAC was motivated on investment grounds. Iffco has also contracted to buy a further 4.9 per cent in AAC, which awaits Australia's Foreign Investment Review Board approval.
In February 2009, AAC and its controlling shareholder Futuris announced a closely linked deal for AAC to effectively finance Futuris' sale of 19.9 per cent of its AAC shareholding. Futuris has been trying to sell its 43 per cent stake in AAC over the last couple of years. It had agreed to sell the stake to prominent Australian barrister and pastoralist Allan Myers, but the deal is conditional on AAC buying two pastoral properties – Tipperary and Litchfield – from Myers, which would provide the funds for Myers to buy the 19.9 per cent shareholding.
The Australian Stock Exchange required AAC to obtain shareholder approval to purchase the Myers properties. Shares held by Futuris-Myers cannot be voted. Iffco plans to vote against approval as it believes the transaction might not be in the best interests of AAC and its shareholders. Around 25 per cent of AAC is unable to vote, which means Iffco's shareholding represents 20 per cent or 25 per cent of the eligible votes, putting it in a strong position to veto the Myers transaction. Justifiably, Iffco argues that shareholders have not been provided with enough information about the cash flow and earnings of the properties to enable them to independently judge the value of the transaction.
The new upstart on AAC's share registry has caused management consternation at AAC, which is the oldest continuously operating company in Australia. However, the corporate governance behind the deal is questionable. The acquisition of the two cattle stations is priced at AU$105m. AAC commissioned an independent expert's report that found the acquisition of the properties was "fair and reasonable", valuing the stations at AU$7.4m more than the purchase price. However, shareholders have not been provided with balance sheets, financial results, inventories, and projections. Although the purchase price may be reasonable, additional financial information should be provided to shareholders, particularly due to the related party nature of the deal.
AAC itself is under some pressure, recording a loss of AU$38.7m for the year ending December 2008. Its results were impacted by the continued severe drought in Australia and high input costs. AAC recently completed the sale of three cattle stations to Macquarie Group for AU$146m and has signed agreements to sell another five properties with some part of the proceeds funding the Tipperary and Litchfield acquisitions. However, as Iffco correctly points out, the purchase of the two properties contradicts AAC's objective of selling properties in order to reduce debt and lower interest costs. AAC's net debt and gearing levels at end 2008 were AU$409m and 37 per cent respectively. It currently has a borrowing limit of AU$450m thus providing little flexibility.
Although Iffco's move may temporarily disrupt AAC's strategic plan, it is only what one would expect from a large and active investor conducting necessary challenge and due diligence.