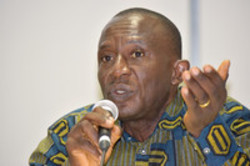 Cameroonian farmer Emmanuel Elong criticises the acquisition of farmland in Africa by large companies from developed countries, Yokohama, 28 August 2019.
Jiji.com | 29 August 2019
Cameroon peasants criticize large companies
Emmanuel Elong, a farmer from Cameroon, criticized the acquisition of lands belonging to small-scale farmers by large companies from developed countries, during a side event entitled "Let's listen to African farmers" at the 7th African Development Conference (TICAD7) held in Yokohama City.

Elong said, "I don't want to stop all agribusiness or kick out all the companies. I just want to my rights to my land and my human rights to be respected."
In Cameroon, oil palm plantations have continued to expand in order to obtain palm oil that can be used as biofuel. These plantations have expanded to the edge of Elong's field. Mr. Elong has organized protests against the French companies that are involved in these plantations.

The rights of African farmers to farmland are not secure. Land grabbing is carried out by large corporations that have close connections with the government and local elites. They use the legal system and their power to take advantage of peasants who have poor legal knowledge. Mr. Elong accused these companies of looting the farmland to destroy the community. He said local families conduct small-scale agriculture that protects the environment without destroying it, and he called on TICAD participants to listen to the voices of small African farmers.