Global AgInvesting| 12 August 2019
Impact investorAgDevCo expands into Cote d'Ivoire with €8.7M palm oil and cashew investment
By Lynda Kiernan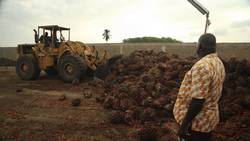 UK-based social impact and sub-Saharan-focused investor AgDevCo has expanded its geographic reach into Cote d'Ivoire with an €8.7 million (US$9.75 million) investment in DekelOil, an agribusiness leader in the West African palm oil and cashew sectors.
Registered in 2009, headquartered in London, and with offices across eight African countries, AgDevCo began backing projects in 2010 with its first round of loans to six agricultural startups in Mozambique as part of the Beira Agricultural Growth Corridor (BAGC) project.
This investment brings AgDevCo's portfolio to more than 40 active investments totaling $170 million, in production, processing, and distribution companies across sub-Saharan Africa that have linked 480,000 smallholder farmers to profitable markets. It follows AgDevCo's latest investment by only a matter of weeks, when the firm announced an unspecified "multi-million Euro" investment in Africado, an avocado grower and marketer located in the Kilimanjaro region of Tanzania.
It also represents the firm's second expansion into a new geography since June, when it made its first investment in Kenya, investing $5 million in partnership with Root Capital in a market-leading consortium of macadamia processors and exporters including Sagana Nuts, The Village Nut, Jumbo Nut, and the largest processor of the group, Afrimac.
DekelOil
Working toward its goal of becoming a leading agro industrial development company in West Africa, DekelOil's focus includes environmental stewardship, and the wellbeing of the community through long-term social and economic partnerships.
The company's assets include a computerized oil palm nursery with an annual capacity of 1 million plants, 1,886 hectares of company plantations, a 60-ton per hour mill, an advanced and highly environmentally-sound effluent treatment plant, and extensive supply agreements with local farmers covering 27,000 hectares of oil palm estates.
Under the terms of the deal, AgDevCo's investment will consist of a 10-year senior secured loan of €7.2 million (US$8 million) to DekelOil Cote d'Ivoire, and a €1.5 million (US$1.68 million) equity investment into its parent company DekelOil Public in exchange for a 9.7 percent stake.
The company plans on using the capital to fund the completion of its certification under the Roundtable for Sustainable Palm Oil ("RSPO") program, and to implement a traceability program to ensure its fruit is ethically and sustainably sourced from smallholder growers, without any detriment to critical or natural habitats. The funds will also be used to strengthen the company's balance sheet by refinancing its short and medium-term debt facilities, thereby freeing up working capital, enable the company to pursue growth initiatives, and to finance its Environmental, Social and Governance (ESG) activities.
"Responsible commercial agribusiness is key to driving development in the West Africa region," said Chris Issac, managing director, AgDevCo. "DekelOil has made considerable progress towards building a diversified agriculture operation which is already delivering significant social and community benefits. We look forward to helping DekelOil continue its expansion, generating opportunities for higher incomes for thousands of smallholder farmers."
Further on, the company intends to take its collaborative model used with palm oil production, and apply the same to its large-scale cashew processing project in its pipeline for 2020.
Announced in June 2018 and located in Tiebissou, in the heart of Côte d'Ivoire's cashew producing region, the project will have an initial capacity to process 10,000 tons of raw cashew nuts produced by smallholders. Over the coming five years, the company plans to use operating cash flow to fund expanding this capacity to 30,000 tons, and will consider the addition of a cashew nut shell liquid processing facility.
"The AgDevCo Loan is a strong endorsement of our strategy to build DekelOil into a leading West African focused agriculture company. Our collaborative palm oil model benefits local communities and shareholders alike, and we intend to do the same with our large-scale cashew processing project at Tiebissou when production commences in 2020."