Antara| 5 August 2019
UAE intends to invest in Central Kalimantan's food crops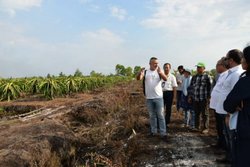 Palangka Raya, C Kalimantan (ANTARA) - The United Arab Emirates (UAE) has sent a delegation to Central Kalimantan in Indonesia to observe several areas as a follow up to a plan to invest in food crops in the province.
The UAE delegation, along with the director general of plantations and the chief of research and development center of the Agriculture Ministry, visited the areas.
"The UAE will invest in Indonesia. One of the regions they want to observe is Central Kalimantan. However, this has nothing to do with a plan to move the capital of Indonesia to the province," Secretary of the Central Kalimantan Provincial Government Fahrizal Fitri stated on Monday.
The delegation had paid a visit to Central Kalimantan to tap the possibility of investment in the development of food crops, including rice, corn, and fruits. In fact, they are keen to develop dragon fruit plantations in Kalampangan Village.
If the investment plan were to be realized, they would export the farm products, particularly to the Middle East.
"Hence, this has nothing to do with the plan to move the capital. The planned development of farm commodities is not aimed at supplying foodstuffs to the prospective capital," he stated.
The UAE delegation has also questioned the availability of land for the planned investment.
During their visit to Central Kalimantan, the delegation visited Palangka Raya, the province's capital, and Katingan District.