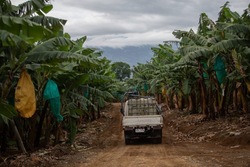 A banana plantation in the village of San Jose, in the province Mindanao. Hundreds of families from the tribe of Manobo-Higaonon were displaced when their houses were demolished in July 2018 by local security men following a court order in favor of a businessman occupying 307 hectares of their ancestral domain. (Photo: Jeoffrey Maitem / Global Witness)
Civil Eats | 31 July 2019
Environmental defenders—often fighting agribusiness—are being violently silenced around the world
BY GRETA MORAN

When armed gold miners in military uniforms last week invaded protected land in Northern Brazil and murdered Emyra Wajãpi, a 68-year-old activist and leader of the Wajãpi indigenous community, it was not an isolated incident.
In the most immediate sense, this violence can be linked to Brazil's President Jair Bolsonaro. Called the "Trump of the Tropics" by the British press, Bolsonaro has encouraged the exploitation of indigenous land and rapid deforestation of the Amazon for mining, cattle ranching, and soy production.
"Of course, [violence] is a natural consequence of such kinds of pronouncements," said Victoria Tauli-Corpuz, United Nations Special Rapporteur on the Rights of Indigenous Peoples. Yet Tauli-Corpuz also connects the death of Wajãpi to a much larger, global pattern of violence against environmental defenders, a term used to describe people protecting their rivers, forests, and soils.
In 2018, 164 of these activists were murdered across the globe, according to a report released yesterday from Global Witness, an international nonprofit that has been documenting killings against environmental defenders since 2012. "Those on the frontline of expansion by industries like agribusiness and mining—many already feeling the effects of climate change—are being routinely forced off their land, and persecuted for their efforts to defend their rights," the report states.
"Whereas killing is happening largely in Latin America and parts of South Asia, criminalization is really happening everywhere," said Alice Harrison, a senior campaigner with Global Witness.
The full scope of the violence takes many forms, but agribusiness is a major driver. The report documents the rising use of tactics "designed to silence dissent, consolidate power and advance private interests," furthering environmental injustice. In the United States, for instance, Global Witness points to the criminalization of Red Fawn Fallis, an indigenous activist who was pinned to the ground during a police raid at Standing Rock and accused of firing a revolver, which has landed her in prison for 57 months.
It also refers to the instance 13 members of environmental organizations denied entry to the 2018 U.N. Conference on Climate Change in Poland. As well as the case of Indonesian journalist Muhammad Yusuf, who died in police custody after being arrested for criticizing palm oil.
Of the environmental defenders who were killed, the majority were indigenous people residing in Latin America and the stewards of some of the most biodiverse land in the world. Many, like Wajãpi, were defending themselves from the mining, which was the deadliest sector linked to 43 deaths. Agribusiness—especially soy, sugar, palm oil, and beef production—was the second deadliest sector, at 21 deaths.
"Indigenous peoples, who have been protecting their lands since time immemorial, and have managed to keep their resources in their communities, whether these are mineral resources, forests, or fertile soil," said Tauli-Corpuz, who is a Kankana-ey-Igorot from the Philippines. And yet, many are "penalized for sustaining [their] own lands and ecosystems," she added.
According to the report, 30 environmental defenders were killed last year in the Philippines—the nation with the largest number of such incidents. This is followed by 24 people in Columbia, 23 people in India, and 20 people Brazil. The report notes that the killings are likely an underestimate, given how many go unreported.
Take Luis Arturo Marroquin. According to the report, he was "shot in May 2018 by two unidentified men," after "leading member of an organization of indigenous farmers dedicated to promoting land rights and rural development."
The Toll of Agribusiness
Beyond the most visible violence of murder, the aggressive expansion of agribusiness also has a large toll on communities and ecosystems, explained Maria Luisa Mendonça, the director of Rede Social de Justiça e Direitos Humanos, a human rights NGO based in Brazil.
The expansion of agribusiness is propped up by foreign investors, including the U.S. After the housing market crash of 2008, many investors,
such as Harvard University
, turned to more tangible assets. This, in turn, leads to "the process of land speculation that also drives this process of displacing rural communities," said Mendonca.
Often, the land used for agribusiness is acquired without the consent of the indigenous communities. "You have an illegal process that's very common in Brazil it's called grilagem, a form of land grabbing ," said Mendonca. In most cases, she adds, a local landowner uses violence to displace communities, forge land titles, and then post the land on the market for agribusinesses to swoop in.
"It's a process that hinges on the colonial [justification] that all this land is empty, but it is not," said Mendonca.
One of the regions where this is happening is the Cerrado, a vast tropical savanna and a critical biodiversity hotspot. "We describe the Cerrado as an upside-down forest because the trees are very short, but they have very deep roots," which makes it an important source of groundwater, said Mendonca. But now that vast biodiversity, and the communities who always lived there, are being threatened.
The ramifications are global. Agribusiness, which depends on fossil fuels, "has a huge impact on local, rural areas as well as globally because it is one of the main causes of climate change," said Mendonca.
The Silencing of Dissent
While there have been no documented murders of environmental defenders in the U.S., there has been a rise of quieter, legal tactics used to suppress environmental activists.
Climate change activists have been labeled as terrorists, said lawyer Kelsey Skaggs with the Climate Defense Project. She pointed to how the company behind the pipeline, Energy Transfer Partners used the term "eco-terrorists"—which was popularized in the early 2000s—to refer to protestors of the Dakota Access Pipeline.
In 2017, a number of activists referred to as the Valve Turners—individuals who manually shut down four tar sands pipeline valves—were sentenced to prison and 84 members of the U.S. Congress signed a letter to Attorney General Jeff Sessions suggesting that the group be treated as domestic terrorists.
There's also been a sharp uptick of laws passed criminalizing protest in the U.S. generally. According to the U.S. Protest Law Tracker, since November 2016, nine states (Indiana, Louisiana, Missouri, North Dakota, Oklahoma, South Dakota, Tennessee, Texas, and West Virginia) have enacted laws restricting protest. Many of these laws specifically address the protest of oil and gas infrastructure.
"A major concern raised by these laws is that they have a chilling effect on activism, effectively scaring people away from organizing and protesting," said Skaggs.
In Guatemala, where 16 environmental defenders were murdered, the suppression of activists also comes in the form of arrest warrants. "There's actually a pattern where landowners will ask state prosecutors and judges to issue arrest warrants, for dozens of people some time, when a land conflict is emerging," said Doug Hertzler, a senior policy analyst at ActionAid.
Often these arrests warrants are not acted upon, but used as a threat, explained Hertzler. Other times, environmental defenders are jailed at random, long after the arrest has been issued. For instance, in 2017 Abelino Chub Caal, an indigenous teacher and activist, was abruptly jailed for two years without a trial. He was arrested on falsified grounds: planning to burn oil palm trees, of which he was later acquitted.
Anti-terrorist laws in Latin America have been increasingly used to silence environmental defenders who pose no threat to national security. "It's really a dangerous trend when your right to associate, your right to freely assemble, your right to descent and protest are being curtailed…under the guise of national security or anti-terrorism laws," said Tauli-Corpuz.
Tauli-Corpuz experienced this firsthand after calling attention to imposition of Martial law in Mindanao, where many activists are facing violence. In March 2018, the Philippines declared Tauli-Corpuz a terrorist, forcing her to relocate and live under threat. While the label has since been dropped following Tauli-Corpuz's petition, she says government officials have turned to new methods.
On March 13, an official from the Armed Forces of the Philippines said in a news conference that the U.N. had been "infiltrated by the Communist Party of the Philippines through Ms. Tauli-Corpuz" according to a statement from the U.N. denouncing these attacks.
The Invisible Global Supply Chain
A large source of this global violence is the failure of corporations and investors to fully examine the implications relating to land, water, and communities, prior to developing a region, say activists.
While there is sizable global demand for many of the products in regions of conflict, there's little accountability for how these products are sourced. "Complicity operates on a number of levels," said Harrison. "You have the operating companies, you have the companies that then buy from those companies, and then you also have investment flows into these projects."
The report highlights the impact Dole Banana in the Philippines, which has been under investigation since 2006 by a local government task force for operating on indigenous land through an subleases with local businessman Romulo T. De Leon, III.
"The community say they never legally consented to De Leon's current lease agreement to operate on their ancestral land, and allege fraud was used to fake their consent. They told police that a local government official attempted to coerce community members into signing the agreement, and even threatened community members with imprisonment if they failed to sign it," according to the report.
Human rights groups working with Global Witness say that the company used violent tactics, including threats of death and the destruction of homes and croplands, to maintain control of this land and silence protest.
"I only learned that my house would be demolished on the day it happened. We packed our things, carried them outside and then they destroyed our hut," Cheryl Cagaanan told Global Witness after her home was demolished in June 2018.
This violence is only a few steps away from the U.S.: Although the bananas are sold in Asia, Dole Asia was until 2013 part of Dole International, headquartered in California. Now, the company is wholly owned by the Japanese Itochu Corporation, which is invested in by the U.S. company JP Morgan Chase.
"JP Morgan Chase is among the [companies] that we [will] follow up with after this report to try and push them to clarify that position," said Harrison. Neither JP Morgan Chase nor Dole Asia responded to requests for comment.
Global Witness has called upon Dole Philippines to stop operations on its land until it can be fully aware that consent was granted by the indigenous community.
"It's not good enough for foreign multinationals that are connected to these land grabs to profess ignorance," the report reads. "They have a responsibility to proactively ensure that the land they are profiting from has been leased legally, with the consent of the communities who have lived on it for generations."
Strategies of Resistance
On a larger scale, Global Witness called on all companies, investors, and governments to take measures to ensure greater accountability over their complicity in violently sourced products. The group suggests that governments should provide legal and financial support to environmental defenders, investors should thoroughly examine their portfolios, and companies should have reparations and grievance measures in place for any harms they may cause.
The organization also call on governments and companies to ensure that indigenous people are granted the right to Free, Prior and Informed Consent (FPIC), a principle established in the U.N. Declaration on the Rights of Indigenous People.
To this end, Tauli-Corpuz has been working to better implement this standard. "It basically means that when any development project, or any administrative or legal measure, directly affects indigenous peoples, their free and prior informed consent should be obtained," said Tauli-Corpuz.
Global Witness also wants to create a stronger legal obligation for companies to avoid committing harm. "In the longer term, we're calling for a better regulatory environment, which means that these sorts of companies are obliged to carry out checks on their supply chains and report them as supply chains," said Harrison. She points to the Lacey Act, which requires U.S. importers to make sure that their suppliers are not using illegal logging practices, as an example of what the group believes is needed for agribusiness.
Currently, companies have little obligation or pressure to look more deeply into their supply chains. "They are just buying from wherever," said Harrison. "And we would like to change that."