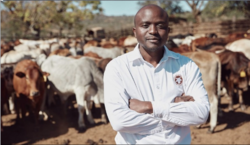 Ntuthuko Shezi, CEO of Livestock Wealth
ITWeb | 18 July 2019
Livestock Wealth becomes multimillion-rand enterprise
By Sibahle Malinga
Livestock Wealth (LSW), a livestock crowd farming platform, has become a multimillion-rand enterprise, and is expanding its offerings to include agricultural food products, planted in a smart farming connected system.
Developed by KwaZulu-Natal-born electro-mechanical engineer Ntuthuko Shezi in 2015, Livestock Wealth offers people with no access to land, time or skills the opportunity to own livestock within a professionally managed farming operation.
The Web and mobile application allows investors to invest their money in cows rather than in unit trusts, shares or exchange-traded funds.
Through connecting its network of small-scale partner farmers to investors, the business model allows farmers who cannot afford to scale their business to access capital, while offering the investor an opportunity to invest in assets which are not influenced by financial market trends.
Cattle farming in SA is estimated to be worth around R142 billion, with the local beef industry generating an estimated $144 million in exports in 2017, according to data from Trade Map.
After seeing multimillion-rand growth, the investment company says it has now expanded its offerings to include an array of agricultural assets that can be owned by potential investors, including sugar cane plants, macadamia trees and maize plants, and a separate option of investing in a connected garden system which grows all types of organic vegetables.
Speaking at a business update in Johannesburg yesterday, Shezi explained the new offerings give investors who lack the time and farming expertise the opportunity to own tangible, high-value, growing assets.
"Our goal is to give ordinary citizens an opportunity to invest in a long-term investment plan on any agricultural product that has the potential to yield great investments.
"For instance, macadamia trees, the most lucrative crop in SA, can cost around R20 000 per hectare for the investor, but after a few years of growth, one tree can reap rewards on a minimum investment of around R80 000."
Potential investors can buy online, from the partner farmer, while Livestock Wealth facilitates and manages the assets like an investment portfolio.
The South African macadamia industry is the largest producer of macadamia nuts worldwide. According to the 2018 World Nut and Dried Fruit Conference, an estimated yield of 53 500 tonnes of macadamia trees reaped a sales value of well over R3.2 billion in 2018.
The connected garden system, a pool-table-sized garden which grows any vegetable crop, including spinach, lettuce, cauliflower and brussel sprouts, is managed around the clock by an experienced partner farmer.
Investors can own several smart garden systems, which are connected to an Internet of things monitoring system, allowing the farmer to track the environmental condition of the plants, while the investor can view and track the plants at almost any time via the app.
"The biggest problem facing farmers is gaining access to funding to help them grow their business and take care of expenses such as paying salaries, feeding livestock with quality food, maintaining tractors and providing medical care for the stock due to receiving seasonal income. Banks often require collateral for taking loans and with most black farmers renting out their farms from government, it becomes impossible to provide the required collateral."
Acceleration through collaboration
Livestock Wealth has partnered with financial institution Fedgroup, through its Impact Farming mobile app, which allows investors to endow in blueberry bushes, beehives and other plants, which are farmed and managed on their behalf from as little as R300.
The crowd farming company has also partnered with Woolworths and wholesaler Cavalier Foods, to provide them with free-range beef, which is free of antibiotics and growth hormones.
The farming business says it is engaging potential partners such as restaurant chains, public hospitals, prisons and retailers to connect them to its farmer partners who will then supply them with fresh produce on a regular basis.
"Typically, we are looking at supplying institutions such as Johannesburg General Hospital with onions or lettuce on a daily basis and also supply some retailers and restaurants with a few kilograms of veggies on a daily or weekly basis. The farming systems are not limited to vegetables, but also include growing plants that will be used to make food spices, such as seeds, buds, fruits, flowers, bark and roots of plants."
The smart farming connected system.
The smart farming connected system.
Disruptive business model
Livestock Wealth started with 26 cows in 2015 and currently manages a herd of around 2 000 cattle at four farms across the country.
These have a total value of over R20 million and are managed on behalf of 800 investors who are not only South Africans but include Germans, Americans, Canadian, Irish, English and Chinese.
The company says since inception, it has paid out almost R5 million in dividends.
Its business model works like a bank fixed deposit, where the client would invest in a cow for a six- or 12-month period with an option to re-invest.
The 12-month option means investing in a pregnant cow (R18 730) and the six-month option is investing in a calf (R11 529), which will eventually be sold for free-range beef with an average return on investment of about 12%.
Another alternative is the shared-investment option (R576) where the investor buys a portion of a cow together with other investors.
"Government can't give us all a farm divided into small amounts. We need to move away from the old farm model of one person owning land, having all the skills and farming their own product," says Shezi.
"With crowd farming, one entity owns the land, and the farmer who loves farming and has the skills continues to farm, and then others invest in the production. Whether it is cattle or blueberries or veggies, other people can be involved in production without the investors getting their hands dirty."
The company has also partnered with MTN Connected Livestock, which helps monitor the livestock online through a tracking device, providing investors with data about the condition of their animals, through the app.
"We are hoping that our business model will be a game-changer in lowering the barrier to entry for millions of aspirant farmers. The main definer is that the two parties each have what the other wants, and we are committed to managing the relationship between the investor and the farmer, by giving the farmer the option and the ability to unlock the hidden value in their crops and livestock."