Radion Free Asia| 8 July 2019
Two groups of Cambodian villagers protest over land disputes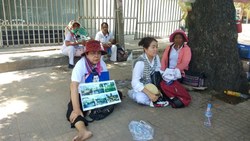 Villagers in a land dispute with a Chinese-backed company protest in front of Beijing's embassy in Phnom Penh, Cambodia, July 8, 2019. Photo: RFA
Villagers embroiled in two separate land disputes in Cambodia's Koh Kong province protested Monday, demanding solutions for their respective cases, one against a home-grown tycoon, the other against a Chinese developer.
The first, a group of 100 residents representing 197 families in Koh Kong's Sre Ambil district held their rally in front of the offices for the Ministry of Land Management. They find themselves at odds with Okna Heng Huy, head of the Heng Huy Agriculture group.
Chhann Chhoeun, a member of one the 197 affected families, said in an interview with RFA's Khmer Service Monday that the group assembled in front of the ministry's office four days prior, but the ministry didn't assign any officials to meet with the group.
He said they were also not allowed to enter the offices, so on Monday, the group of mostly elderly women flocked to the premises again, only to be met with violence.
Several standby security force members from Phnom Penh's Chamkar Mon district blocked their way, sometimes using force.
Chhann Chhoeun said the violence did not result in any injuries, but he added that the group of 100 would have returned to their homes if the ministry had met with them and agreed to examine their case.
The ministry published a press release on July 1 stating that the 197 families are not related to an exclusive land concession (ELC) for a sugarcane grower in Koh Kong province. The release said that in that dispute, 987 families had already received a solution.
In a letter dated the same day, the ministry said it would take legal action against nearly 200 of those families if they continue to protest in front of the ministry.
"Our residents don't have a dispute with the Koh Kong sugar Company. We have a land dispute with Heng Huy Agriculture Group," said Chhann Chhoeun.
"[The Ministry] said it already resolved our case. But we don't agree with their statement. We will stage further protests until we can get a proper solution," he added.
The ministry's letter denied Chhann Chhoeun's group's request to allot 421 hectares from Heng Huy Agriculture's development project to the 197 families, saying that the land had already been issued to Heng Huy and that a solution would be left to the courts to decide.
Meanwhile, the second land protest involved 20 residents representing 77 families in front of the Chinese embassy in Phenom Penh. They wanted intervention against the Chinese-backed Union Development Group (UDG) in an attempt to win compensation.
Saing Puy, a representative of the 77 families, said that UDG has not made a decision on compensation, adding that no embassy official met with them or otherwise attempted to notify them of anything related to their dispute that has now lasted for more than 10 years.
She said the embassy is trying to escape its responsibilities by not paying compensation to Cambodian villagers.
"We think that we will re-stage protest in front of the Chinese embassy [Tuesday] since we are the real owners of the plots of land in question. We are the real owners," said Saing Puy.
"Their company violated our rights. So, we will have to continue our protest until they agree to live up to their responsibility," she said.
"In the past, they pledged to pay us compensation. [They promised] that they would send a message to their company. But, up until now, they haven't honored their pledge."
During the protest in front of the embassy, the villagers said they were dragged away by authorities and were banned from raising banners or shouting their demands.
Mean Prum Mony, Koh Kong province Coordinator for the Cambodian Human Rights and Development Association (ADHOC), said a resolution could be reached if the government took an actual interest in helping them.
"Basically, the state [endorsed] development projects have so far paid little attention to their own people," he said.
"They are not ensuring that such development creates jobs for the local population or improves their living conditions. They did not ensure that the local population receives land ownership or that their human rights are respected," he added, saying that authorities signing off on development projects should have thought about improving livelihoods through income generation.
"Their development [plans] should have a people-centered focus!"
Reported and translated by RFA's Khmer Service. Written in English by Eugene Whong.