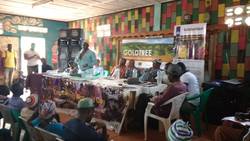 Both Goldtree and Natural Habitats have partnerships with the Dutch NGO Solidaridad. (Photo: Goldtree Holdings)
Michel Mores | 27 June 2019
Michelmores advises Goldtree on landmark merger with Natural Habitats Europe Africa
Michelmores' Emerging Markets team has advised Goldtree on its merger with Natural Habitats Europe Africa, in a deal that will drive the sustainable production of certified organic palm oil in Sierra Leone.

Established in 2007, Goldtree is located in Daru, in the Eastern Province of Sierra Leone. Its operations are based on the rehabilitation of an abandoned mill destroyed in the country's 1991-2002 civil war. The new mill was commissioned in 2013, making it the first commercial mill operating in Sierra Leone since the civil war.
Natural Habitats Europe Africa is a Dutch company committed to the sustainable production of organic and fairly traded products, including Roundtable on Sustainable Palm Oil (RSPO) certification.
Prior to the transaction, Goldtree was jointly owned by African private equity fund manager Phatisa, through its African Agriculture Fund (AAF) ‒ and Finnfund, the Finnish development finance institution. Post-merger, AAF holds 49.99%, with Finnfund and Natural Habitats Europe-Africa BV holding 22.51% and 27.5%, respectively.
Following the merger, Goldtree will have 2,300 total replanted hectares, employ 300 permanent and 1,000 full-time equivalent staff and positively impact c. 10,000 outgrowers.
The Michelmores team was led by Partner Joe Whitfield, supported by Harry Trick and James Whistler.
Joe Whitfield, Head of Michelmores' Emerging Markets team, said "Having acted on the establishment of the Goldtree palm oil milling operation in 2011, Michelmores are delighted to have been involved in this current merger between Goldtree and Natural Habitats.
The merger will increase exports of ethically produced and organic palm oil to international markets, to the benefit of Sierra Leone's smallholder farmers and the livelihoods of Goldtree's local communities. We are looking forward to continuing to work with Goldtree to enable it to deliver its sustainable growth plans."
Michelmores' Emerging Markets team advises private equity funds, impact investors, financial institutions, corporates, and government agencies that are investing and operating in some of the most challenging frontier markets.
--
Africa Capital Digest | 1 July 2019
Phatisa is merging Goldtree, a palm oil milling business in Sierra Leone, with Natural Habits Europe Africa's milling and plantation assets in the same country. The deal, whose value remains undisclosed, gives Phatisa an almost 50% stake in the combined business, which goes under the name of Goldtree Holdings. Finnfund will hold 22.51% of the merged business while Natural Habitats Europe Africa will hold a 27.5% stake.