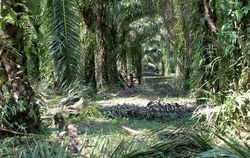 28 May 2019 | Globe Newswire

Feronia Inc. announces US$19.3 million private placement and related debt settlement

Feronia Inc. ("Feronia" or the "Company") (TSX-V: FRN) is pleased to announce the proposed private placement (the "Private Placement") of up to approximately US$19.3 million of common shares in the capital of the Company ("Common Shares") to be lead primarily by existing shareholders Straight KKM 2 Limited ("KKM") and CDC Group plc, the UK Government's development finance institution ("CDC") at an issuance price of CAD$0.075 per share and based on a CAD$1.344:US$1.00 exchange rate.
Proceeds from the Private Placement shall be used to complete the construction of a new palm oil mill at Lokumete, the settlement of all of the outstanding short term debt previously provided by KKM and CDC in the aggregate amount of approximately US$11.3 million (the "Debt Settlement") and for working capital purposes. Pursuant to the Private Placement, up to a total of 346,006,233 Common Shares are to be issued which shall include an aggregate of 202,646,233 Common Shares to settle the short term debt in full.
The transactions are subject to various customary closing conditions including the approval of the TSX Venture Exchange (the "TSXV"). Assuming such conditions are met, the closing of the transactions is expected to be completed on May 31, 2019. The Common Shares, if issued, will be issued in reliance on certain prospectus exemptions available under applicable securities legislation and will be subject to a hold period of four months and one day in accordance with applicable securities legislation and TSXV requirements.
Pursuant to Multilateral Instrument 61-101 – Protection of Minority Security Holders in Special Transactions ("MI 61-101"), the Private Placement and Debt Settlement each constitutes a "related party transaction" as the participants in the transactions are insiders of the Company. The Company is relying on exemptions from the formal valuation and minority approval requirements.