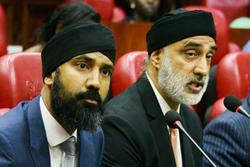 West Kenya Sugar company Chairman Jaswant Rai (Right). [PHOTO/COURTESY]
Kahawatungu | 12 May 2019
Controversial Rai Family Now Targets Mumias Sugar Nucleus Estate
by Francis Muli Francis Muli
Recently, Mumias Sugar Company advertised a bid to lease what they call non-core properties to private entities, but as this desk learns, it could hold more than meets the eye.
One of the 'non-core' property being 'disposed of' is the prime Mumias Sugar nucleus estate, which this desk learns that is being acquired secretly by the controversial Rai family through a proxy company.
Rai Family, which owns the West Kenya Sugar Company in Kakamega, plans to plant sugarcane on the estate for supply to its factory, at the expense of the cash strapped Mumias Sugar.
The leasing of this facility is one of the ways choreographed by cartels to ensure the company continues to make losses, for lack of enough cane. In a well-knit plan, when the Rai family takes over the estate, it will be responsible for its security hence sugarcane poaching will be easier. This will leave Mumias with almost nothing, even as the West Kenya Sugar Company thrives on stolen cane.
Trouble for Mumias started in 2012, when the company began experiencing lowered sugar output and deceased profits, initially blamed on "inefficiency".
A forensic audit found procedural and financial irregularities which top management had hid from the company's Board of Directors.
The managers worked with cartels like the Rai family to ensure that the company, which produced over 40 percent of sugar in Kenya, was stifled to death for the benefit of Western Kenya Sugar company.
Though this desk is yet to confirm, it is alleged that the Rai family could take over other assets including Mumias' water bottling plant and the power generation plant.
According to a local weekly publication, Mumias wants to lease are a new modern block with elevator, cafeteria, parking lot and a supermarket, which the Rai family could also be eying.
The firm's golf club, guest house, the famous Booker Academy both primary and secondary, housing estate and medical centre are also targeted. The Mumias Sports Complex that has a stadium, bar, restaurant, library and gymnasium are also in the plan of leasing.
The family is said to be using its links to Kenyatta family through Muhoho Kenyatta to bulldoze its way in the sugar industry in Kenya.
A part from the first family, Rai family is said to enjoy close ties with former presidents Daniel Moi and Mwai Kibaki's families.
Through such political links, Rai family easily acquired Pan Paper Mills located in Webuye, Bungoma county in 2017 and renamed it Rai Paper Mills. The acquisition was marred with controversy, but Kenyans were left to have their say even as the Rais had their way.
The family paid Ksh900 million for the firm that was valued at Ksh18 billion, Pan Paper was indebted to the tune of Ksh10 billion by the time it was placed under receivership in 2009.
In a bid to expand its political networks, the Rai family is reported to have reached out to ODM leader Raila Odinga to make things smoother for their business.
The new connection is not in vain, as plans are underway to ensure the family gets a portion of Yala Swamp land to develop sugarcane. The family expects a total of 3,700 hectares on the land. By getting a portion of the land, Rai family will be better place for sugarcane poaching in the area, which will stifle cane supply for local sugar factories.
Other projects on the pipeline through Raila and his cronies include land that was initially run by Dominion Farms. Foreign investors are said to have been chased out by Raila through his cronies.
Other companies run by the Rai family include RaiPly, Menengai Oil Refineries, Timsales and Tulip Properties.
Iconic figures running the Rai empire include Jaswant Rai and Tejveer Rai.
Last year, Jaswant Rai was implicated in contraband sugar saga, where he was accused of bribing MPs to reject an investigation report. The saga has since been swept under the carpet.