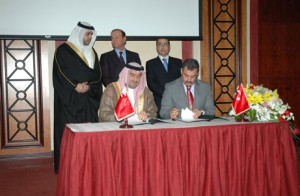 Vision3 | Press release | Thu, Apr 16, 2009
Manama, Bahrain - Vision3, the promoter of AgriCap, the investment vehicle conceived to invest in visionary initiatives across the agriculture sector in the greater MENA region announced today that it signed a Memorandum of Understanding with the General Directorate of Agricultural Enterprises (TIGEM), a Turkish governmental agency falling under the authority of the Ministry of Agriculture and Rural Affairs, responsible for the development of agricultural land.
Under the terms of the agreement, the partners of the Vision3 strategic alliance and TIGEM will work together to identify innovative agricultural investment opportunities throughout the country in the areas under its authority. Additionally, Vision3 will be partnering with a company from the Turkish private sector. This agreement follows the original MoU signed with Turkish Investment Support and Promotion Agency in October 2008 allowing Vision3 to explore the agricultural investment opportunities in Turkey.
Signing the agreement was Dr Esam Y. Janahi, Chairman of Vision3 and Mr Mehmet Halis Bilden, Director General and Chairman of the Board of TIGEM in the presence of HE Mr Mehdi Eker, Minister of Agriculture and Rural Affairs, Mr Mohammed Khalil Al Sayed, Vision 3 Board Member and Mr Arda Açksöz, Vice President of Investment Support and Promotion Agency of Turkey (ISPAT).
The ceremony took place at the Bahrain International Exhibitions and Conferences Centre, during the Bahraini Turkish Economic Forum organized by Bahrain's Ministry of Industry and Commerce under the patronage of H.E. Dr Hassan Fakhro, Minister of Industry and Commerce in honor of President Abdulla Gul, President of the Republic of Turkey. Attending the Forum were high Turkish and Bahraini governmental officials and representatives of the business community.
The goal of AgriCap is to foster projects that offer solutions to the problems faced in global food production. It will also seek to expand the existing role of agriculture through the development of new agricultural and bio-technologies. To realize this potential, AgriCap will work with the TIGEM, through their know-how of the agricultural environment within Turkey itself.
Turkey is a major exporter of high quality produce, including cereals, pulses, industrial crops, sugar, nuts, fresh and dried fruits, vegetables, olive oil, and livestock products.
Vision3 Chairman, Dr Esam Y. Janahi, commented today, 'Given the boldness and ambition that characterizes AgriCap and the depth of agricultural know-how across this great country, there is vast amount we can achieve in the identification of visionary agriculture initiatives. Thanks to the continuous support of the Turkish Government, in just few short months AgriCap is making tangible progress towards achieving its goals. Vision3 offers all elements in capital investment, management and expertise and the promotion of FDI. We are very honoured to be here today marking what we believe will be a critical moment in the development of AgriCap and the birth of diversified agricultural initiatives across The Republic of Turkey. With one of the world's foremost agricultural sectors and the kind support and direction of the Turkish Government, we look forward to identifying investments that push the envelope of agricultural science.'
ISPAT President Mr. Alpaslan Korkmaz said, 'We are very happy to have this agreement as it will bring enormous benefits to both Turkey and investors alike. The Turkish agricultural sector offers huge opportunities thanks to highly fertile soils and abundant rainfall that allows almost any type of crop to prosper. It is one of a few countries that can demonstrate true self-sufficiency in food production with more than 35 percent of its territory consisting of arable land. We believe that this agreement will bring great benefits to Turkey and excellent return on investment to international investors who will be partnering with Vision3. As the Investment Support and Promotion Agency of Turkey, we are very proud that such an important step targeting our agricultural sector; definitely one of our country's strategic powers, is taken during such a time. It has been only 5 months since the initial announcement of this strategic alliance, already giving signals of a mutually beneficial cooperation. This step also translates as a confirmation of the trust towards our country." Mr. Korkmaz, also pointed out that agro investments were also a significant focus area for the Agency given their high added values and stated that the Agency's overall aim was to win value added investments to Turkey which will also provide know-how and employment.
AgriCap was conceived by Vision3, a strategic alliance between Gulf Finance House, Ithmaar Bank and Abu Dhabi Investment House. The alliance recognizes the contribution MENASA countries can make by investing in solutions to increase supply in agricultural products with a focus on five principal lines - food production, livestock, biomedicine, bio-fuels and agricultural technology.
-Ends-
About Vision3
Vision3 is an alliance designed to develop funds and projects within the three key sectors that are crucial to MENASA sustainability: agriculture, infrastructure and hospitality. For more information, please contact:
Suad Al Badri
Abu Dhabi Investment House
Telephone: +971 2 6811233
Email:
[email protected]