Viantieane Times| 28 May 2019
Vinamilk, Lao-Jagro partner in organic dairy farm and resort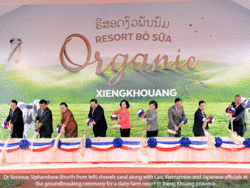 Vinamilk, Vietnam's largest dairy company, has teamed up with Lao and Japanese businesses to build an organic dairy farm and resort in Xieng Khuang province.
Construction of the project officially kicked off on the Xieng Khuang plateau last week. The groundbreaking ceremony was attended by Deputy Prime Minister Dr Sonexay Siphandone, senior officials from Laos and Vietnam, and company representatives. The project marks a new era of development for the Lao and Jagro Development Xieng Khuang Co., Ltd. (Lao-Jagro).
The first phase of the farm will cover 5,000 hectares and have 24,000 cows. The second phase is expected to expand the farm to 15,000-20,000 hectares with a breeding scale of 100,000 cows.

Total investment in the two phases will run up to US$500 million. The farm is expected to be the top-ranking organic dairy farm and resort in Asia due to favourable natural conditions, experience in dairy farming, and the application of leading edge technology.

The farm intends to meet the stringent organic standards required by Japan, Europe and the US.
By 2020, the farm is expected to acquire Production Certification that will facilitate the export of premium organic fresh milk products from Laos to Vietnam and to other countries around the world.

The groundbreaking ceremony marks the start of cooperation between Vinamilk and Lao-Jagro Co., Ltd. It also reflects the solidarity and friendship between Laos and Vietnam, and the longstanding cooperation between Vietnam and Japan. The project will also foster increasingly close and sustainable cooperation among the three countries.

The Lao-Jagro Co., Ltd. was established in 2015 through mutual cooperation between Laos and Japan.

The project is completely financed by the Japanese partners. The primary focus is on dairy cows and the manufacture of organic products on the Xieng Khuang plateau.

In July 2018, Vinamilk announced an investment equal to 51 percent of the share capital of Lao-Jagro Co., Ltd. under the Foreign Investment Certificate issued by the Ministry of Planning and Investment.

Vinamilk is the No. 1 dairy company in Vietnam and ranks among the top 50 largest dairy companies in the world. It owns the largest Global G.A.P. farm system in Asia and exports milk products to 50 countries.

The strategic cooperation between Vinamilk and Lao-Jagro marks a new advancement and reinforces trading and friendship between Vietnam and Laos.

The project also reflects the three-party cooperation between representatives of Vietnam, Laos and Japan. Laos plays a central role by receiving investments and providing land for the project, and Vinamilk is a primary investor along with Japanese partners that have the capacity for technology consolidation and development.