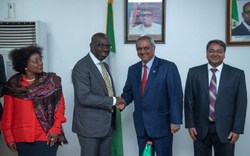 De United Food Industries Limited is a 49:49 joint venture between PT Indofood of Indonesia and Tolaram Africa Foods, which itself is a 50:50 joint venture between the Tolaram Group of Singapore and the multinational food giant Kellogg's.
Business Day | 15 April 2019
Dufil consolidates on land acquisition, commences compensation to Edo farmers

By Daniel Obi

Following its acquisition of 17,954 hectares of land from the Edo State government for Palm oil cultivation, Dufil Prima Foods plc, maker of Indomie Noodles, has embarked on a crop compensation payment to 1,628 farmers across 14 communities in Ovia North East Local Government Area of Edo State.
The payment exercise, which is being overseen by the Ministry of Agriculture in the state, according to a statement, commenced recently and is expected to continue for another three weeks.
The move, which crystallises Dufil's backward integration drive, particularly with respect to oil palm cultivation, is also in line with the Federal Government's drive for increased activities and revenue from agriculture.
This laudable project being undertaken by Dufil will see massive investment being introduced into the region. The project will not only help create job opportunities for indigenes but also serves to cut the importation of oil palm; a development that is in sync with the Federal Government's efforts to reduce importation.
Madhukar Khetan, chief operating officer, Dufil Prima Foods, says in the statement that the project marked another significant milestone in Dufil's commitment to attaining a further backward integrated and self-sustaining system that supports the Nigerian economy by creating employment opportunities, reducing importation and doing so in a sustainable manner.
He adds that crop compensation exercise, which is being carried out marks another achievement in the oil palm plantation project, which will include installation of an integrated palm oil mill.
"In addition to this crop compensation to farmers, Dufil's commitment to the project is worth billions of Naira," Khetan says, adding that the next step after the compensation exercise is Environmental Impact Assessment (EIA) as well as the Roundtable on Sustainable Palm Oil (RSPO) mandatory assessments and development of nursery.
He also commends the state's commitment to ensuring a sustainable venture.
Recently, the CBN governor, Godwin Emefiele, unveiled strategies while speaking during a meeting with stakeholders in the Palm Oil Value Chain. He noted that loans would be granted through the Anchor Borrowers' Programme (ABP) and Commercial Agriculture Credit Scheme (CACS) at no more than 9 percent per annum to identified core investors.
Historically, Nigeria was the world's largest producer of palm oil and such initiatives by the government and the private sector would help place Nigeria back on the global map as a leading palm oil producing country.