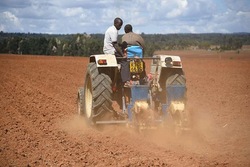 Workers plough a maize farm in Uasin Gishu County on May 7, 2019. (Photo: Nation Media Group)
The Nation | 14 May 2019
Radical proposals to save Kenya's ailing agriculture
By JULIUS SIGEI and ANITA CHEPKOECH
Radical plans, including a possible shift to genetically modified organisms technology, have been laid out to revive Kenya's agriculture — one of the least profitable in the world.
One of the key proposals is the establishment of 50 new large-scale farms of 2,500 acres or more, in a plan aimed at unlocking up to 500,000 acres of new farm production.
40,000 ACRES
"While much of the land will be state-owned, the new farm enterprises will be predominantly funded, owned and operated by the private sector," reads a document called Agricultural Sector Transformation and Growth Strategy, 2019-2029.
The plan will see 150,000 acres under sustainable irrigation, and the farms will benefit from government infrastructure such as roads and irrigation systems and power.
"A request for proposal pack will be released announcing minimum eligibility criteria, bid evaluation criteria (including five-10 per cent shareholding for communities that recognise women, youth and minorities), and standard concession agreements," the document further reads.
Another key plan is to carve up the country into 40 zones, where one million farmers, pastoralists and fishermen in 34 counties will be served by "1,000 farmer-facing SMEs that provide input and equipment, including for irrigation, processing and post-harvest aggregation."
Under this programme, an additional 40,000 acres will be brought under irrigation in these zones.
To support the programme will be 200 national and county transformation leaders as well as 3,000 youth who will be hired as extension workers delivering research and data-driven services in a bid to improve the ratio of extension worker to farms to 1:600.
CORRUPTION
In a move that signals a departure from grand projects such as Galana-Kulalu, which have gobbled up billions of shillings with nothing to show for it, the government now favours the smaller privately run projects.
The government's policy shift comes against the backdrop of a rebuke by the World Bank, in its latest economic update, that the country lacks the commitment to reform the sector that has created employment for more than half of the population. "With 83 per cent of Kenya's land area being arid and semi-arid, one would expect the use of irrigation in farming would be a top priority. Nonetheless, only two per cent of arable land is under irrigation, compared to an average of six per cent in sub-Saharan Africa and 37 per cent in Asia," the report noted. The Bank favoured small-scale irrigation projects over large ones as the best way to cushion the country from climate change.
Galana-Kulalu went under with Sh7 billion and dam projects worth Sh700 billion across the country have also stalled under a hail of corruption claims.
The country is currently staring at starvation and depressed economic growth after rains failed.
But even in its ailing state, agriculture is a major driver of Kenya's economy, contributing up to Sh2.9 trillion. But dependence on rain, lack of access to quality input, pest and disease attacks and the government's outsized role in marketing, which benefits brokers rather than genuine farmers, have stunted its fortunes.
1.3M HOUSEHOLDS
The new strategy details nine flagship projects aimed at achieving three main outcomes: increasing small-scale farmer incomes, increasing agricultural output and value-addition, and boosting household food resilience.
The government seeks to profile communities in arid areas, involve them in food production through cooperatives, and prioritise interventions targeting 1.3 million households, equivalent to eight million Kenyans who have remained chronically food-insecure and highly vulnerable to drought. Implementing this will cost about Sh22 billion, which has already been committed to arid and semi-arid areas by development partners until 2025.
Last week, Agriculture Principal Secretary Hamadi Boga hinted that the government could lift the eight-year ban on GM products to boost agriculture.