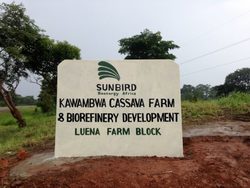 The Kawambwa ethanol and power project was launched by Sunbird Bioenergy in December 2015
Lusaka Times | 4 May 2019
21,500 hectares of land in Kawambwa offered to investors
The Kawambwa Town Council has allocated 21,500 hectares of farms to new more large scale investors to diversify the local economy driven by agriculture, mining and tourism.
Kawambwa Council Chairperson, Kalumba Chifumbe said the district has continued to attract more large scale investment in order to create employment for the people, reduce poverty levels and grow the local economy.
Mr. Chifumbe said among the new investors that have been given land are; the Green 2000, Kashwini Investment, Luena Goat Scheme, Luapula Palm and Van Tek Valves.
He disclosed this during the First Ordinary Full Council meeting which was also attended by Pambashe Member of Parliament, Ronald Chitotela, Chief Munkanta and Chief Chama today.
And the National Heritage Conservation Commission has offered the Kawambwa Town Council to operate the Bar and Restaurant at Ntumbachushi Falls site.
This was contained in the Council Secretary, Isaac Mwale' s report to the First Ordinary Full Council meeting.