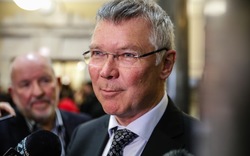 David Parker, Minister for Economic Development, Environment, and Trade and Export Growth. (Photo: RNZ / Richard Tindiller)
Radio NZ | 17 April 2019
OIO changes could see more advertising of farmland sales
by Eric Frykberg

Farmers wanting to sell their land to sell to a foreign buyer might have to advertise their properties more thoroughly than they do now, according to new proposals from the government.
The proposed changes were unveiled by the Associate Minister of Finance David Parker yesterday, in a report on the working of the Overseas Investment Act.
Most attention was focussed on plans to introduce a national interest test when considering applications for foreign buy-ins to this country.
But buried in the fine print were several proposals concerning farmers, mainly concerning what they had to do when selling farmland.
At present, farmland must be advertised for sale on the open market before consent can be given for any foreign purchase of that land.
This was always intended to maximise opportunities for the land to stay in New Zealand hands, by making sure any potential buyer was aware of the forthcoming deal.
But a document by Treasury said the intention of the law was not always achieved in practice.
The report was prepared by Treasury to inform Mr Parker's proposals.
It said at present, land could be advertised after a conditional agreement had already been signed.
The vendor might then not be motivated to advertise extensively.
In fact, the report said some advertising was minimal, even just a placard on the relevant plot of land.
Advertising could also give misleading impressions, and the current 20-day working period allowable for this process was often not long enough.
Treasury came up with two options for fixing this problem.
One would require farmers wishing to sell their land to advertise more thoroughly, for example in two different formats.
The second option paradoxically removed the requirement for advertising.
It based this on the assumption that most farmers would automatically advertise as extensively as possible, to get the best price for their land.
Both options and the proposals in general are now open for submissions.