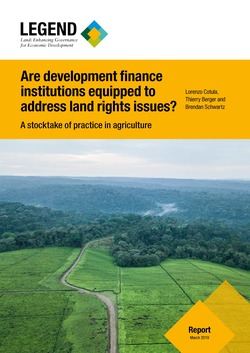 IIED | March 2019
Are development finance institutions equipped to address land rights issues?
A stocktake of practice in agriculture
Bilateral development finance institutions (DFIs) play an increasingly prominent role in the international aid architecture. Because of their position between development and commercial worlds, DFIs can be a key player in efforts to align private sector conduct with international norms and standards.
However, land rights issues are often complex and the stakes are high, partly due to the close relationship that exists between land and human rights. Several governments are encouraging their DFIs to work in more difficult environments – including fragile states and post-conflict situations – where land challenges are even more acute. Thus, DFIs may need support to effectively address land rights issues.
This report reviews the approaches European and North American bilateral DFIs use to address land rights issues in the agriculture sector, and assesses whether the policies and practices that the DFIs apply in environmental and social (ES) matters adequately address land right issues.