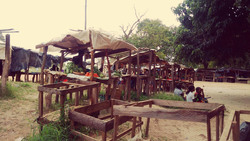 Roadside market in Mkushi, Zambia (Photo: humanity4frica)
Xinhua | 5 February 2019
Egypt to increase investment in Zambia's agriculture sector

LUSAKA, Feb. 5 (Xinhua) -- Egyptian Ambassador to Zambia Amhed Mustafa said Monday that agriculture cooperation with Zambia will lead to more Egyptian investment in the country.

Last week, Zambia and Egypt signed a memorandum of understanding on bolstering Zambia's agriculture and fishery sectors during a visit by Egyptian Agriculture Minister Ezzeddin Abu Steit.

The deal includes the construction of a new farm project of greenhouse vegetable production over an area of 600 hectares (6 square kilometers) in central Zambia's Mkushi district.

Mustafa said the agreement was a step forward in increasing Egyptian investments and support in Zambia's agriculture sector.

The Egyptian envoy said the agreement was a clear manifestation of sound bilateral ties, adding that more Egyptian experts will visit Zambia to share their knowledge and expertise