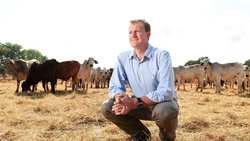 Consolidated Pastoral Company chief executive Troy Setter.
The Weekly Times | 8 January 2019
Consolidated Pastoral Company sells three stations in NT and WA

by KIRRILY CARBERRY

One of Australia's largest pastoral empires has sold three properties in its portfolio to a Vietnamese investment group in a deal understood to be worth $135 million.
Consolidated Pastoral Company, owned by British private equity firm Terra Firma, has sold three neighbouring stations spanning more than 740,00ha in the Northern Territory and Western Australia to Clean Agriculture & International Tourism.
The stations include Auvergne and Newry Station in the Victoria River region of the Northern Territory and Argyle Downs Station in the East Kimberly region of Western Australia.
The sale includes 52,000 head of branded cattle.
It is understood Vietnamese conglomerate TH Group, which has operations in agriculture, food, pharmaceuticals and finance, owns CAIT.
A statement from CAIT said its vision was "to continue to invest in the properties and diversify into high value cropping and other nonpastoral use business".
CPC chief executive Troy Setter said station management and staff would work with CAIT to "continue to run the properties and manage the land".
Following the sale, CPC will own and operate a portfolio of 12 cattle stations with a carrying capacity of over 325,000 head of cattle across 3.9 million hectares of land in Australia.
"The business remains a compelling platform as a whole as well as attractive in parts, and the sale process continues for both of these options," Mr Setter said.
The divestment of CPC was announced in March last year, when it then owned 16 stations, and was estimated to be worth $1 billion.
Nockatunga Station spanning 852,300ha in Thargomindah, QLD, was the first property sold in the divestment.
It was purchased for $50 million in October by Cleveland Agriculture, which is owned by Malcolm Harris, who owns and runs cattle and cropping properties across Australia.
CPC also holds a 90 per cent interest in a joint venture which owns and operates two feedlots in Indonesia.