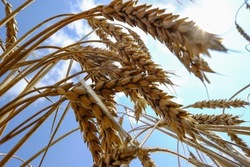 Reuters 5 November 2018
Saudi Agricultural and Livestock Investment Company closes deal with Mriya Agro Holding
UK-based Saudi Agricultural and Livestock Investment Company (SALIC UK) Ltd and Mriya Farming PLC (UK) have completed the deal to acquire a majority of the Mriya Group's Ukrainian farming assets, including infrastructure facilities, machinery, and companies holding land lease agreements.
"The transaction was closed following the approval from the Antimonopoly Committee of Ukraine (AMCU). The value and terms of the transaction have not been disclosed," Mriya's press service said on Monday, November 5.
Upon completion of the deal, Mriya will continue its operations in Ukraine alongside SALIC's subsidiary, Continental Farmers Group (CFG). Both companies will complete the season as separate businesses and in current configuration. In the next few months, Mriya and CFG will focus on preparing for the integration of assets and developing the strategy of a combined business under management of Simon Cherniavsky as CEO and Mark Laird as Executive Chairman.
"The companies plan to introduce the joint business strategy in spring 2019," the press service said.
Signing the deal on September 12, 2018, the new owner of Mriya already declared the intention to invest significantly over the next two years into new equipment, infrastructure, agricultural technology and land bank consolidation.
As reported by UNIAN, Mriya Agro Holding, which announced a technical default in August 2014 and was transferred under the control of its creditors, in September 2016 reduced the maximum feasible debt load to US$330 million through negotiations on debt restructuring.
In May 2017, Mriya Agro Holding and the International Finance Corporation (IFC) agreed on the terms of restructuring of debts owed by the company to the IFC. In August 2018, the holding successfully completed debt restructuring, reduced the debt burden from US$1.1 billion to US$309.5 million.
On September 12, 2018, the Saudi Agricultural & Livestock Investment Co. (SALIC) entered into an agreement to acquire the Mriya Group's agricultural assets. On October 26, 2018, SALIC received permission from the Anti-Monopoly Committee of Ukraine to acquire a number of companies belonging to Mriya.
UNIAN memo
. SALIC UK (Saudi Agricultural and Livestock Investment Company, United Kingdom) was established as a wholly owned subsidiary of the Saudi Agricultural and Livestock Investment Company which is a joint stock company that is owned by the Public Investment Fund of the Kingdom of Saudi Arabia. Its statutes state that its activity is in the field of investments in agricultural and livestock production in countries that have a competitive advantage in contributing to the production of selected food goods and their availability for export markets.
The SALIC strategy focuses on twelve product categories: wheat, barley, corn, soybean, rice, sugar, vegetable oils, green fodder, red meat, milk products, poultry and aquaculture. As a specialist in the field of investment in agriculture and livestock production and supply, SALIC aims to engage in the full supply chain for selected agricultural and livestock goods worldwide. SALIC UK investment focus extends to investments in supply, storage and handling, so that greater efficiency can be developed in delivery systems and security of supplies for all potential customers.
SALIC's existing Ukraine subsidiary Continental Farmers Group (CFG) has operated in Western Ukraine since 2006 farming 45,000 hectares primarily in Lviv region.
Mriya Farming plc is the English parent company for one of the largest Ukrainian agricultural groups, farming 150,000 hectares in six regions of Western Ukraine: Ternopil, Khmelnitsky, Chernivtsi, Ivano-Frankivsk, Lviv, and Rivne. The Mriya Group operates four modern silos with a total capacity of 380,000 tonnes, a potato storage facility with a total capacity of 52,000 tonnes, a seed plant and a potato starch plant. The group's core business includes growing wheat, rapeseed, barley, sunflower, soybean, corn, sugar beet, potatoes, and other crops.