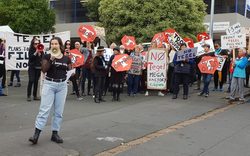 Tegel protesters Kaipara locals, iwi and animal rights activists protesting against the planned chicken farm at Tegel's Auckland headquarters earlier this month. (Photo: RNZ/ Jessie Chiang)
Radio New Zeland | 2 October 2018

It's sunny-side up for Kaipara community after Tegel mega-farm scrapped
A small Northland community is ecstatic plans to build what would have been the biggest chicken farm in the country have been canned.
The Overseas Investment Office (OIO) has turned down Tegel's bid to buy more than 200 hectares of former dairy land at Arapohue, near Dargaville.
There would have been nine million chickens a year, filling 32 sheds, across 253 hectares in rural Northland.
But mass opposition from the Kaipara community and the local authorities' reluctance to issue resource consents has made the proposal too risky for the government to approve.
A woman who would have lived just over a kilometre from the site is delighted.
"We are just so relieved," Rosie Donovan said.
"This fight has taken over our lives since early February, when we were first notified about it. So it's a huge weight off our shoulders."
The potential odour from the farm and pollution had residents worried, she said, especially as it was next to the Kāpehu Marae and near to two schools.
"It was also on a flood plain, right next to the Northern Wairoa River, so there were risks with flooding."
Ms Donovan is thrilled the community's quick thinking and action helped to influence the outcome.
The farm would have bordered the Kāpehu Marae, dwarfing its urupā.
The marae's chair, Margaret Mutu, also expressed relief the farm has been given the no-go.
A farm of that scale would have caused massive health problems, she said.
"We would have been stunk out of the place, we would not have been able to breathe the air, it would have been so polluted.
"It would have killed our people who already have compromised lung capacity."
She said the company was trying to get away with a "very dangerous operation".
Ms Mutu said it's time to boost smaller-scale farmers, not back foreign-owned companies like Tegel.
Kaipara District Council and Northland Regional Council recommended declining the consents for the farm.
But Kaipara Mayor Jason Smith said the rejected farm was a blow to an already-deprived community.
"This particular project was not without its challenges," Dr Smith said.
It's time the government stepped up support of Kaipara through its provincial growth fund, Dr Smith said.
But projects such as this would bring important employment opportunities and increased investment into the area.
"It would send out a signal that we're open for business," he said.
Mr Smith told Morning Report there are concerns that the government is actively discouraging investment in the district.
"We're not seeing the support that other parts of Northland are seeing from central government in this space."Reuters | 1 October 2018
------------
By Charlotte Greenfield
WELLINGTON, Oct 1 (Reuters) - New Zealand's overseas investment regulator on Monday turned down an application by Tegel Group Holdings Ltd to buy land on which it planned to build a huge chicken farm in the country's north.
Tegel, in the process of being acquired by the local unit of Philippines poultry supplier Bounty Fresh Food Inc, wants to construct a farm capable of raising 9 million chickens a year for meat in the town of Dargaville.
That would make it one of the largest chicken farms in the country, but the plans have encountered stiff opposition from the local community, worried about potential noise and pollution as well as the impact on a nearby indigenous Māori meeting and burial ground.
A Tegel spokesman told Reuters by phone that the country's Overseas Investment Office (OIO) had told the company on Monday morning that it would turn down its request to buy the land.
Land Information Minister Eugenie Sage, who oversees the OIO and has the final say on decisions before it, said in a statement that opposition from the community meant that there was "considerable uncertainty" about whether the necessary consents to build the farm would have been granted by the regional councils.
Bounty made a NZ$437.8 million ($300 million) cash offer to acquire Tegel in April, which the New Zealand firm's directors in June unanimously recommended shareholders to accept.
New Zealand's economy is widely recognised for its agricultural prowess, with a clean image that makes its dairy and other produce sought after in Asian economies. (Reporting by Charlotte Greenfield Editing by Joseph Radford and Richard Pullin)