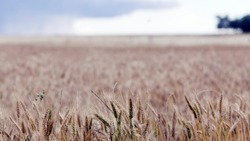 The Australian farming business BFB Pty Ltd, with its portfolio of 28 farms covering 48,753 ha, will be pitched to Australian superannuation funds and offshore sovereign wealth investors. (Photo: Erin Jonasson)
Australian Financial Review | 28 August 2018
Riverina farming giant BFB on the block; PwC, CBRE hired
by Sarah Thompson and Anthony Macdonald
Diversified NSW-based farming business BFB Pty Ltd will be pitched to Australian superannuation funds and offshore sovereign wealth investors, as part of an auction to be handled by PwC and CBRE.
Street Talk understands BFB's shareholders, including American private equity firm Proterra Investment Partners which has a controlling stake, are seeking a new owner for the business and have called in advisers to get a sale underway.
The advisers have told tyrekickers to have first round indicative bids ready by the end of September, with documents already in front of interested parties.
Up for grabs is a Riverina-based diversified farming operation.
BFB has built an extensive cropping portfolio which has grown to comprise 28 farms and 48,753 hectares over the course of its 30-year history.
Advertisement
The farming assets are complemented by a larger integrated business comprising logistics, a piggery, fuel and fertiliser distribution and a grain storage and handling facility through a joint venture with grains giant Cargill.
A big part of the pitch is synergies that come from owning the various parts and the group's long-term goal to create a diverse farming business that is somewhat insulated from the cyclical and seasonal effects associated with agriculture.
It's an asset-rich company and its assets are expected to underpin valuations put on the business.
The company had $327.2 million assets as at December 31, including $266.9 million in property, plant and equipment, according to its most recent accounts filed with the corporate regulator.
Its biggest asset was land and buildings worth $233.9 million.
The auction is expected to attract domestic and offshore interest, including local superannuation funds with active real assets programs including QIC and First State Super and global pension funds.
Offshore interest is expected to be subject to Foreign Investment Review Board approval.
It is understood BFB's management, spearheaded by CEO and company founder Terry Brabin and responsible for about 80 staff, are being offered to a new owner as part of the auction.
Management is understood to have growth plans of their own and would like a new backer to help take the company into the future.
The company is majority owned by Proterra Investment Partners, which was launched in January 2016 as the manager of Black River Asset Management. Black River was spun out of Cargill.
BFB has tapped PwC as lead financial adviser, while CBRE is helping run the sale.