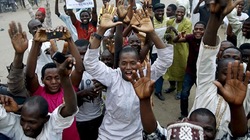 Guardian | 27 August 2018
Cross River communities protest, allege land grabbing in Wilmar's N45b project

By Anietie Akpan, Calabar
After series of failed appeals, communities impacted by the business activities of Wilmar PZ, a multinational company involved in agro palm cultivation in Cross River State have taken Wilmar to the State House of Assembly for alleged pollution and land grabbing.
The affected communities which include Mbarakom, Ekong Anaku, Ibogo, Umai, Betem, Uwet, Attan Odot Akamkpa Urban and Ayuk Aba communities among others, led by the Chairman Forest Watch, Mrs. Nkoyo Effiom, said "the continuous land grab by the firm is likely to generate tension and pitch the government against several thousands of farmers from Wilmar impacted communities across Akamkpa, Biase, Odukpani and Akpabuyo local government areas", if there was no urgent intervention.
The host communities said their visit was to present their plights and predicaments before the legislators, made up of the chairman and members of the Cross River State House Committee on Commerce, Industries and PPP. Effiom noted that eight years ago, Wilmar PZ, commenced its operation in Cross River State with its acquisition of existing estates in the state, namely Calaro Oil Palm Estate, Ibiea Palm Plantation, Kwa Falls Oil Palm Estate and the Obasanjo Farms.
She said agreements and Memorandum of Understanding (MoU) meant to serve as beam and structural framework upon which development would not only strive but would be sustained were entered into with Wilmar accordingly even without due consultation with critical stakeholders but "eight years has passed.

"The yearning of the community people to have their communities transformed into satellite Towns with basic infrastructures has remained a distant dream, as Wilmar PZ has failed to keep to the MoU's among several promises made.
"The drainage channels introduced as embankment by Wilmar PZ has not only caused lot of devastation to crops but has further disrupted and contaminated the streams in the area. Subsistence farmers in these communities have been displaced and denied access and ownership to the land and cultural heritage without compensation. Their rich biodiversity has been altered and the environment degraded particularly with the use of pesticides and chemicals fertilizers".
The communities made a 4 point demand saying. "Wilmar PZ be made to enter fresh consultation with the community people on how to implement the mandatory CSR law of the state, and that they should be made to halt further expansion into individual, families and communities lands as well as conduct a FPIC-(Free, Prior Informed Consent) before expansion commence. That the Environmental Impact Assessment (EIA) of Wilmar PZ be reviewed and the existing MoU and other laws should be enforced and Wilmar made to comply accordingly.
The Village Head of Mbarakom community, His Royal Highness, Ntufam Itansina Itansina who was among the teeming number of persons that visited the legislators, remarked that what is more appalling is the fact that the company has deliberately hidden the copy of the MoU it entered into with government in their exclusion and "the MoU they have is not made known to us".
In his response, the House Committee Chairman, Mr. Fred Osim, representing Ikom I state constituency thanked the communities and their representatives for the peaceful approach they have followed and pleaded with the leaders to continually keep the situation under check by getting the youths to remain peaceful and promised that the house will look into the matter.
When contacted on the matter, the Commissioner for Griculture in the State Professor Anthony Eneji said he was not aware of any crisis between Wilmar and its host communities over land and farm matters but promised to look into it.
In a reaction, the Sustainability Manager of Wilmar, Mr. Asen Ako said, "We would like to place on record that both Calaro Estate and Ibiae estates are long existing plantations set up by the State Government in 1954 and 1963 respectively. Biase Plantations Limited (BPL) through a state government privatization process purchased Ibiae Estate (5,594.012 ha) with survey plan No. RIU/CR/113/11 and Calaro Estate (5,549.801 ha) with survey plan No. ASC/CR/EBA/11/254.
"We would also like to place on record that there has been no additional land acquisition from chiefs or any individual to increase the size of Calaro Estate beyond what was handed by the state government. Thus, it is completely impossible that anyone at Akamkpa or surrounding communities of Calaro Estate to claim that we have used chiefs to grab individual and family land to add to what the state handed to us. The statement that BPL used chiefs to grab individual and family land is therefore not valid".
He said, Wilmar, has "a robust CSR package for communities around its operation and this package is geared towards education, capacity building, health, employment, and economic development.
"In our support to education around our catchment area. To date, we have committed N253,785,027 (Onun Secondary school Mbarakom– 100 per cent completed); N116,574,542 (Camp 2 Primary School – 50per cent completed); N104,627,161.70 (Ibiae Primary School – 90 per cent completed); N226,160,500 (Aningeje Secondary School – 75per cent completed)".