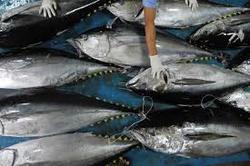 L'Aquaculture Tunisienne is the largest seabass and seabream hatchery and nursery in North Africa
Bloomberg | 3 August 2018
Sokotra Capital buys Tunisian fish-farm business

By Dinesh Nair
Sokotra Capital, a Dubai firm set up by former UBS Group AG banker Albert Momdjian, led a consortium of investors in acquiring fish-farm L'Aquaculture Tunisienne for an undisclosed amount.
The company, based in Sousse, Tunisia, is the largest seabass and seabream hatchery and nursery in North Africa, with a current annual production capacity of 20 million fingerlings and 1,500 tons of fish per year, the two companies said in a statement Friday.
The deal builds on Sokotra's investments in the agriculture and aquaculture sectors, and the firm said it plans to pursue more such investments in Africa and South East Asia. It will also seek to expand L'Aquaculture Tunisienne's business in North Africa, gradually extending it to the Mediterranean basin.
"It is all about efficiency and about feeding our growing population," Momdjian said. "The protein race has already started and we are very well positioned as a firm and as a team to benefit from it."
Sokotra was founded in 2014 by Momdjian after more than 20 years in banking, including working for institutions like Credit Agricole SA and HSBC Holdings Plc. Before setting up the investment firm, Momdjian was the head of UBS's ultra-high net worth business for its wealthiest clients in the Middle East and Africa. Sokotra's strategy is to invest along with family offices and institutions in fast-growing, developing markets.