InDepth News| 5 August 2018
Tanzania's indigenous communities racing to secure land eyed by investors
By Kizito Makoye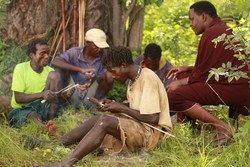 Members of the Hadzabe community in Manyara region making bows for hunting. The group is among beneficiaries of the mapping project run by the Ujamaa Community Resources Team. Photo: Kizito Makoye | IDN-INPS
DAR ES SALAAM (IDN) – Helena Magafu smiled as she held a piece of paper that recognizes her as the sole owner of a disputed farmland in her village was handed over to her, thus resolving a raging dispute with her neighbours.
"I am very happy, I don't think anyone with ever again claim this is their land," she said
For the past eight years the 53 year-old widow, who lives in Sanje village in the rural district of Kilombero – in Morogoro Region, south-western Tanzania – has been embroiled in a dispute with her neighbours who attempted to take 30 hectares of her family land when her husband died.
However, under the new government initiative aimed at increasing transparency and efficiency in the land sector, Magafu was recently confirmed as the right owner of the land.
Magafu, who grows maize, rice, sunflower and vegetables in her farm, has been issued with a document known as a Certificate of Customary Right of Occupancy (CCRO).
For her, getting the land title is an important milestone, providing a sense of security and harmony to spend more time working in the field.
"I have my piece of mind and the zeal to work hard and support my children," said Magafu who earns around Tanzanian shillings 4,500,000 million (approximately $2000) a year.
Tanzania has attracted huge interest as a destination for large-scale agricultural investment due to sufficient land and cheap labour. While farmers use swathes of land for growing crops, fishing and animal keeping, they rarely have documented evidence to prove ownership.
For the communities, upholding land rights means possessing documented evidence which secures tenure and can also be used as collateral for securing bank loans.
As traditional laws that once protected village land weaken, indigenous communities and farmers have repeatedly lost chunks of land in what analysts say is a huge land grabbing facilitated by foreign investors.
Without adequate tenure or security the community land often becomes susceptible to grabbing by foreign companies colluding with corrupt village leaders.
Although Tanzania's laws on land acquisition direct companies to obtain land through the Tanzanian Investment Centre – the state investment watchdog, some investors directly negotiate land deals with local villages.
This situation not only triggers conflicts but also erodes trust and had also undermined the potential for investors to receive government protection.
However, communities are not idly standing by adopting innovative strategies that are helping them to regain parcel of lost land as well as protecting their collectively-held land by staging protests, turning to courts and engage in mapping and monitoring of the land.
With the help from local charities, local village councils and district authorities, communities across the country are mapping and documenting their communal land to get strong legal protection.
In 2015 Maasai pastoralists in Tanzania's northern Loliondo village sued the government at a regional court accusing it of intimidating witnesses supporting their legal claim for chunk of the village land seized during the 2014 eviction to make way for a wildlife corridor.
Land registration in Tanzania is a complex process often riddled by corruption and inefficiency, according to Transparency International's 2014 Global Corruption Barometer.
In an effort to boost local understanding of the land rights in rural areas the United States Agency for International Development (USAID) has since 2014 been implementing a US$5.9 million Tanzania Land Tenure Assistance project to improve tenure security of local farmers in Tanzania's southern highlands regions while issuing them with CCRO.
Under the initiative, district land planners were trained on land valuation, record keeping and were also equipped with conflict resolution skills.
Doug Hertzler, a Senior Policy Analyst for ActionAid said the move to strengthen land rights and protection of poor communities is important for fighting poverty. "It's crucial that these land tenure programs protect long term rights of communities and do not facilitate land grabbing by investors," he said
Agriculture is the backbone of Tanzania's economy and more than 80 percent of the population depends on it for livelihood, but while the country has a total of 44 million hectares of land suitable for agricultural production, only 10.8 million hectares are currently being cultivated, according to Tanzania National Bureau of Statistics data.
Globally indigenous people and rural communities collectively hold more than half of world land, but they legally own just 10 percent, and even less of it is registered and titled, a new study finds.
A 2018 World Resources Institute study finds that globally rural communities and indigenous people face an uphill struggle to register their land claims as community land is increasingly targeted by powerful commercial interests.
While they toil for years to get their legal titles, wealthy companies with strong political connections are proving adept to navigate through government bureaucracy and acquire land in as little as 30 days, the study finds.
"In Tanzania, companies are supposed to consult with communities when obtaining village land… but companies may obtain right to land classified as 'general land''…no consultations are required," said Laura Notess Research Analyst, with World Resources institute.
As customary tenure arrangements for collectively held land continue to weaken, communities are facing obstacles to register and document their land rights, often forced to unwieldly navigate through complex procedures that drag on for years.
"A substantial burden is imposed on poor villages and individuals in obtaining various documents and approvals… this process often stretches the limited resources of districts which have large backlogs," Emmanuel Sullen, a Tanzanian researcher at the Institute for poverty land and Agrarian Studies in South Africa.
While governments and companies are keen to acquire land to extract natural resources, grow biofuels; or simply hold it for speculative purposes, indigenous communities often lose ancestral lands – their primary source of livelihood, income and social identity.
"The determination of village boundaries…is often a recipe for disputes likely to challenge the resolve of the village since they require significant time and monetary investments," Sulle said.
While national laws in many countries recognize customary rights, the legal protections are often weak and poorly enforced making community land especially vulnerable to being taken by more powerful actors.
After decades of enduring displacements, pastoralists and hunter-gatherer indigenous communities including the Maasai and the Hadzabe are being couched to take action against policies that prioritize foreign investors against traditional land use practices.
With the help of a local NGO Ujamaa Community Resources Team, the groups which constantly face the threat of losing their land, and with it their ways of life are fighting to secure their land.
Since 2003 the NGO has secured more than 200,000 hectares of land for the indigenous groups. The target is to get more than 970,000 hectares of land in northern Tanzania protected against invasion.
"We are confident to reach our target as we have planned, land is very important for indigenous communities," said Edward Loure, the pioneer of the initiative.