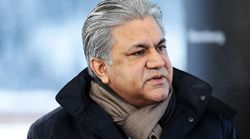 Arif Naqvi (Photographer: Simon Dawson/Bloomberg photo by Bloomberg)
Deal Street Asia - 30 Jul 2018
Behind the spectacular fall from grace of private equity firm Abraaj
by Dinesh Nair, Matthew Martin, Tracy Alloway
Days before rubbing elbows with global business titans in Davos in January, Arif Naqvi set out to charm another circle of friends—Gulf Arab tycoons—in a last-ditch attempt to save his Dubai private equity firm.
But things were already on the cusp of spiraling out of control. Dogged by allegations Abraaj had mismanaged investors' money, Dubai's star financier soon couldn't pay the rent.
After Naqvi, 58, surrendered control of Abraaj in June, it was revealed that for years, its main revenues didn't cover operating costs. Abraaj borrowed to fill the gaps and now owes creditors over $1 billion. Once lenders turned off the taps, the firm collapsed, leaving losses, lawsuits and shattered reputations in its wake.
Abraaj's reliance on multiple levels of leverage created a "highly unstable" business model that's unusual for the private-equity industry, the court-appointed liquidators that are dismantling the firm said in a report dated July 11 and seen by Bloomberg.
After analyzing the documents they could get their hands on—since some went missing—investigators at PricewaterhouseCoopers said Abraaj's use of loans to cover operating expenses left it "sensitive to volatility and potential liquidity crises." They are now selling Abraaj assets to pay creditors and investigating allegations of "mismanagement, comingling of funds and misappropriation of assets."
Naqvi declined to comment, while the firm defended its use of leverage. Borrowing was a necessity because most of its clients, especially early on, were family businesses that weren't always timely in making payments, according to an e-mailed statement from Abraaj.
"In hindsight, the pace of growth should have been more measured," the statement said. "The back office was not keeping pace in terms of sophistication or best practice." Back-office operations encompass things like record maintenance, accounting and regulatory compliance.
Abraaj's spectacular demise has dealt a severe blow to Dubai's reputation as a global financial center. It rattled the trust of investors who included Bill Gates, the International Finance Corp. and U.S. and U.K. government agencies, triggered defaults on loans from at least 10 sources and set off lawsuits in the United Arab Emirates and Turkey.
The chronology of the collapse, drawn from conversations with about a dozen people with direct knowledge of the company, lays out how rapidly things fell apart for Naqvi, the suave Pakistani entrepreneur who built Abraaj from the ground up in the past 16 years only to see it crumble in under 10 months.
A fixture at the annual World Economic Forum in Davos, Naqvi had crafted Abraaj's image as the face of Middle East private equity. Starting with $3 million of capital in 2002, it grew by leaps and bounds, at one point managing almost $14 billion of assets for investors like the Bill & Melinda Gates Foundation and the retirement fund for teachers in the state of Texas.
Abraaj oversaw funds from 18 offices in emerging markets spanning Latin America, Africa and Asia—a network that several U.S. investors have since tried to buy at fire-sale prices.
Former employees said Naqvi did everything he could to portray Abraaj as a powerhouse. He lavished staff with big salaries, had generous budgets for travel and leased a private corporate jet. He sponsored events like Abraaj Week, an annual business conference that featured gala dinners at Dubai's luxury Armani hotel in the world's tallest tower, the Burj Khalifa. An avid art collector, Abraaj even financed a coveted annual art prize that furnished the winner with a $100,000 grant.
But the firm's foundation was shaky: fees earned from managing investments between 2014 and 2017 at some points barely covered half of costs, according to numbers released in the liquidators' report.
While it's true that the world's private equity firms thrive by borrowing money to fund acquisitions, they don't typically use debt to pay for basic expenses, according to Ludovic Phalippou, associate professor of finance at Oxford University's Said Business School.
"It is unusual for any PE firm to finance operations with a loan," said Phalippou, author of Private Equity Laid Bare. "We could see this as Abraaj applying what they preach to themselves. In contrast, several major PE firms are actually publicly listed and have no leverage, the exact opposite of what they preach."
Naqvi's house of cards began teetering last September when investors in a $1 billion health care fund raised in 2016—including the Gates Foundation—asked questions about what happened to their money, according to four of the people.
In the course of monitoring investments, they grew suspicious that not all proceeds were deployed and wanted to know why because a clause in the fund stipulated that any extra cash would be returned to them, one person said. A spokesperson for the Seattle-based charity declined to comment.
Starting about a year earlier, Abraaj did in fact begin pulling tens of millions of dollars from at least one flagship fund—the Abraaj Private Equity Fund IV—to prop up its finances, three people said. By the early months of 2017, it was moving money out of the health care fund, too, they said. Abraaj then deposited borrowed cash into both funds' accounts just before the auditors, KPMG, compiled subsequent quarterly earnings statements, they said.
Earlier this year, Abraaj hired KPMG's local office to verify transactions made by the health fund and said the auditor found no misuse of money. KPMG International said it's now investigating the 2018 review with its legal advisers, Linklaters. It said KPMG wasn't hired to do an official audit or verify how the funds were used.
The cash crunch only got worse. Abraaj had planned to sell a stake in Pakistani utility K-Electric to Shanghai Electric in March 2017, which would have raised several hundred million dollars, but the transaction was delayed due to regulatory hurdles.
By the fall, Abraaj was trying to reassure the health-fund investors that everything was fine. But in November, four of them accused it of withdrawing cash without their consent. They hired forensic accountants to examine what happened. The unused funds were later returned, which only deepened the liquidity crunch.
With pressure mounting, Naqvi's inner circle started to unravel. In the final two months of 2017, key executives quit, among them Mustafa Abdel Wadood, who resigned but agreed not to leave immediately, according to several people.
Bloomberg