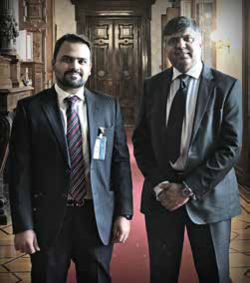 Phoenix is the world's 3rd largest rice trader and controls 150,000 ha of farmland in different parts of the world (Photo: OFID/SteveHughes)
OFID Quarterly | July 2018
Q: What does a global agrifood business do when it wants to focus more on sustainable development?
A: It works with OFID.
Phoenix is a leading international agri-food, farming, distribution and resources group generating revenues in excess of US$2.05 billion. Gaurav Dhawan, Phoenix Executive Chairman and Nitin Navandher, Phoenix Group Finance Controller, recently visited OFID in Vienna following OFID's successful participation in Phoenix's US$205 million syndicated borrowing base. The borrowing base is a key facility for Phoenix, enabling the group to increase its activities in Africa and Asia.
During his trip, Dhawan took time out to speak with the
OFID Quarterly
about human centered development, empowerment, motivation and more. As told to Editor Steve Hughes...
On the new borrowing facility...
The borrowing base facility is key for Phoenix, supporting our activities in Africa and Asia. The driver for Phoenix wanting OFID to enter the syndicated facility was not liquidity, but rather our preference of having a DFI as part of the group given our strategic initiatives. The facility brings together several banks, which helps both Phoenix and our banks. For example, it brings together liquidity under one facility as well as providing us with 'operations ease' when drawing down. From a bank perspective, it helps with their country limit management. The facility is important for our growth plans of increasing market share and volume.
On working with a development finance institution (DFI)...
Fortunately for us, we have longstanding relationships with some of the largest trade finance banks globally. However, in line with our strategy and focus on sustainability, responsibility in terms of agriculture, traceability and making a developmental impact, we wanted to work with a DFI that has clear focus on these fronts and can also provide us with best practice insight as well.
This is the first time we've worked with a DFI, and OFID was the perfect match to support us and our efforts on sustainable agricultural growth, especially in Africa and South East Asia.
On the Phoenix philosophy...
The shareholders of Phoenix are the management and we have grown and developed the company from scratch. We follow a commercial agenda, but at Phoenix, we recognise the importance of doing right by people and the planet through the correct thinking and the correct action in every aspect of our global operations.
To channel our philosophy, we launched an initiative last year called 'the 1% change'. It stems from the belief that small steps taken to make the world a better place can have a huge impact as an aggregate.
For example, our distribution company in Dubai recently changed the type of plastic used for the garbage bags it distributes. As the Middle East has plenty of sunshine and high temperatures, oxy-biodegradable plastics decompose well. Accordingly, we converted all of our production – more than 800 tons a month – to oxy-biodegradable plastics. The cost impact was compensated by increased turnover. Overall, this may be a mere speck in terms of the millions of tons of plastic on the planet, but we are playing our part. This is what our 1% philosophy is all about.
We cannot have a short-term focus on shareholder returns, or else our business will soon have negative returns. We must consider the triple bottom line. Accordingly, we have decided to choose projects with a developmental agenda, and we strongly feel such projects generate better returns and economical value to shareholders.
OFID and Phoenix
Commenting on OFID's participation in the US$205 million borrowing facility for Phoenix Global, Head of Private Sector and Trade Finance Department Operations Tareq Alnassar said the transaction represents an important step in the relationship between OFID, the Phoenix Group and one of OFID's important existing strategic partners, Standard Chartered Bank. The transaction supports two of OFID's key objectives: improving food security and strengthening South-South trade, with the main beneficiary countries being in Africa.
On inspiration...
My team and colleagues are my inspiration. I am driven by the belief that Phoenix is on a good trajectory. A team of 35 in 2006 is today a team of more than 2,500 colleagues. Someday soon we will cross the 5,000 threshold. Each and every colleague is working toward bettering Phoenix and the communities it works in.
We believe that great changes can be effected through a series of small, well-planned, and well-executed steps, which contribute to the greater good. This led to the coining of the term and initiative "the 1% change", which was actually an initiative inspired by my spouse.
Everyone is empowered to do some change and every change has an impact. It may take a bit longer, but it's possible to fill a huge container with tiny drops of water. This was the start of the 1% change. We will not simply wait for 'the big one' but instead we have made a collection of small changes, like switching the lighting in our head office to LEDs, for example, or providing equipment for schools to clear snow in the winters to enable continuity in our farming communities of Baimyrza and Pushkinskoye, Kazakhstan.
Furthermore, we are setting up the Phoenix Foundation where we will invite all our stakeholders to participate: suppliers, buyers and colleagues will have the opportunity to make a contribution. We are still finalising the details, but the foundation will focus on community work where we currently have a presence: Africa, East Europe, India and Vietnam.
On Kashmir and human development...
I have spent time in Kashmir and unfortunately the people there are in a geopolitical storm. A way to provide normality and a way out of such conditions for these people is through education and economic prosperity. If parents can send their children to good schools, have better food to eat, have cars to drive, nice homes to live in, things will change. So, we made a plan. Leveraging our expertise in horticulture, we will lease land to set up apple orchards.
Apple orchards are in the DNA and history of Kashmir; hence our model would provide traditional employment opportunities. Phoenix will lease orchards – which are generally family farms of about one acre – and improve them using best horticulture and management practices. We will then employ at least one member of the family and provide an income that is higher than their present one. In addition, we are also working to create self-employment opportunities.
The importance of our plan is that it is a commercially viable operation. We are not a charity. Nevertheless, through careful planning and implementation we can provide assistance to those less fortunate to help them stand on their own feet. We can empower people and give them a chance to create a better life for themselves and their communities.
I believe in empowerment and value creation. This is the ideology that drives us.
On education and joining Phoenix...
I was born and brought up in Delhi, India. On the successful completion of my studies – a Bachelor of Business Studies in Delhi and a Masters in International Business from the Indian Institute of Foreign Trade – I moved to Thailand where I started my career in 1997 with a large commodities trading company. I was also privileged enough to spend time in China, Myanmar, Bangladesh and Kenya.
In 2001, I was invited to join Phoenix, which had just been founded by my former boss and mentor. I was 28 at the time, and being invited to be part of the founding team of a new start-up was an exciting opportunity as well as a huge privilege.
Through the hard work of the Phoenix team, both past and present, and with good fortune, we are now in a great position today. I'm so happy that I made the decision to join Phoenix.
For more information, please see
http://phoenixcommodities.com