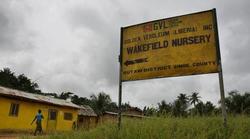 Golden Veroleum has quit the Roundtable on Sustainable Palm Oil in response to accusations from a global watchdog that it failed to get consent from communities before expanding onto their lands.
Reuters | 21 July 2018
Liberia's biggest palm oil project quits eco-certification scheme
MONROVIA, July 21 (Reuters) - Liberia's largest palm oil company, Golden Veroleum, has quit a global eco-certification scheme in response to accusations from a global watchdog that it failed to get consent from communities before expanding onto their lands, the firm said.
The Roundtable on Sustainable Palm Oil (RSPO) a voluntary global certification body for the industry, ruled that the Singapore-controlled company violated its commitments.
The RSPO is aimed at getting palm oil firms to adopt environmentally and socially responsible policies in an industry with a long history of land grabs and rainforest destruction.
Violent demonstrations broke out against the company in 2015 at a plantation in Sinoe County. In February this year, the RSPO complained to Global Veroleum that it had not sought the free, prior and informed consent of communities before expanding on their lands in the area.
Communities had lodged a complaint to the RSPO on a number of issues, including alleged desecration of sacred and burial sites. The RSPO told the firm to renegotiate with communities and, in some cases, to temporarily stop work in disputed areas. The company had up to six months to implement the ruling.
"GVL is disappointed in the appeal panel decision and the way the complaint on GVL has been managed. It understands that based on the current process, it has no further recourse," Golden Veroleum (GVL) said in a statement late on Friday.
"We believe that in this point, our objective can best be achieved by a...suspension of GVL membership from the RSPO."
Palm oil is the world's most widely used vegetable oil and is found in thousands of supermarket products like margarine and soap, and is also is used as a biofuel, making it a multi-billion dollar business.
But it grows best on land that has just been deforested, and palm oil firms have long had eyes on Liberia, the only country in West Africa to have preserved much of its primary forest — 40 percent of the region's forest is found in the small nation.
Critics say the palm oil industry is taking part in a land grab in Africa that reduces local food output in favour of crops for export. Golden Veroleum's investment, however, was widely seen as a boon for Liberia, which has suffered economic catastrophe from falls in commodity prices and an Ebola epidemic.
Golden Veroleum is owned by the U.S.-based Verdant Fund LP, whose sole investor is Singapore-listed palm oil giant Golden Agri-Resources, the world's second-largest palm oil plantation company.