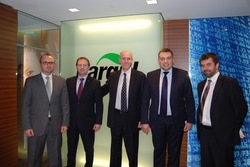 "We are finally getting rid of the 'territorial principle' barrier, which envisaged the physical presence of the buyer at the venue of the auction," says Maksym Martynyuk, Ukraine's first deputy minister of agrarian policy and food. The
photo
is of Martynyuk (2nd right) at Cargill's Washington DC offices with Cargill VP Van Yuetter (centre).
Xinhua | 25 June 2018
Ukraine to lease state-owned farmland via online auctions
KIEV, June 25 (Xinhua) -- The Ukrainian government will lease state-owned farmland via online auctions as part of efforts to curb corruption and improve efficiency, the Agriculture Ministry said on Monday.
The auctions will be carried out through the state electronic auction platform "ProZorro.Sale" and other online platforms by September.
Besides curbing corruption in the land rental market, the online auctions are expected to fill the state budget and make leasing land more convenient for potential investors.
"We are finally getting rid of the 'territorial principle' barrier, which envisaged the physical presence of the buyer at the venue of the auction," Maksym Martynyuk, first deputy minister of agrarian policy and food, said.
Ukraine has 42 million hectares of farmland. The government owns about 10 million hectares, of which about 25 percent is on lease.